Location
Time Out Market Montréal
705 Rue Sainte-Catherine Ouest
Montréal, QC H3B 4G5
Canada
Refund policy
Refunds up to 1 day before event
Une semaine pour dégustez tous le Time Out Market Montréal
About this event
Si vous avez déjà visité un marché alimentaire et que vous souhaitiez pouvoir tout essayer, alors nous avons ce qu'il vous faut : pendant la semaine du 19 au 26 septembre, Time Out Market Montréal organise un événement appelé Tournée Gourmand, une visite culinaire du marché composée d'un menu rempli de plats de ses chefs et restaurants.
L'idée maîtresse est que les Montréalais ont une occasion unique et limitée de goûter une variété de produits du Marché : Il suffit d'acheter une carte de 20 $ (plus taxes) pour avoir un accès exclusif à un menu de plats à 5 $. Chaque carte vous donne droit à quatre options différentes du menu. Passez y faire un tour pour quelques encas simples et bon marché ou achetez plusieurs cartes pour goûter à tout le marché ! Cela va des mini-bols de ramen, biryani indien, poutine et poké aux tranches de pizza, tacos, beignets, hamburgers, etc._
If you've ever gone to a food hall and wished you could try it all then we've got just the thing: Throughout the week of September 19 to September 26, Time Out Market Montréal is hosting an event called Tournée Gourmand or Gourmet Week, a culinary tour of the market made up of a menu filled with dishes from its chefs and restaurants.
The big story here is that Montrealers get a unique, limited window of opportunity to taste a variety of things from the Market: All you need to do is to buy a $20 card (plus taxes) to get exclusive access to a menu of $5 dishes. Each card gives you four different options from the menu. Drop in for a few cheap single snacks or ball out and buy multiple cards to taste the entire market! We're talking anything from mini bowls of ramen, Indian biryani, poutine and poké to slices of pizza, tacos, doughnuts, burger sliders, and more.
MENU
Tunnel Expresso: Petit latte et bouchée beigne / Small latte and donut bite
Le Blossom: Sakura Blossom avec saumon / Sakura Blossom with Salmon
Marusan: Ramen triple bouillon avec dashi de légumes et porc / Ramen triple broth with veggie dashi and pork
Red Tiger: Soupe Tonkinoise / Pho soup
Le Taj: Biriyani poulet avec sauce raita / Biriyani chicken with raita sauce
Paul Toussaint: Poulet à la Jerk avec riz au pois et plantain / Jerk chicken with riz au pois and plantain
Le Petit Diplomate: Tartarffle - tartare de bœuf sur une gaufre de pommes de terre frites / Tartarffle - beef tartare on a fried potato waffle
Burger T: Hamburger de boeuf Signé Toqué / Signé Toqué beef burger
Il Miglio: Médaillon à la ricotta avec pois frais, pecorino / Ricotta cheese Medallion with fresh peas and pecorino
Moleskine: Pointe de marguerite avec sauce tomate, fior di latte, stracciatella de bufflonne, huile d'olive, basilic / Marguerite slice with tomato sauce, fior di latte, stracciatella de bufflonne, olive oil, basil
Campo: Poutine au poulet grillé, frites, fromage en grain, fromage Sao Jorge, sauce maison au poulet, chips de chouriço / Grilled chicken poutine, fries, cheese curds, Sao Jorge cheese, homemade gravy, chorizo chips
Casa Kaizen: Surf & Turf taco aux pleurotes en panko, no-chorizo, fromage de cajou vieilli à la bière, pomme et jalapeno, no-beurre blanc au safran / Surf & Turf taco with oyster mushroom taco in panko, no-chorizo, beer-aged cashew cheese, apple and jalapeno, saffron no-butter
*Veuillez noter que les cartes ne sont pas remboursables //Please note cards are non-refundable
*le menu peut être modifié//menu subject to change
*Les clients qui désirent entrer au Market doivent présenter un code QR indiquant leur statut de protection comme preuve de vaccination contre la COVID-19//Guests who wish to enter the market must show proof of vaccination through a QR code that contains their protection status as proof of vaccination against COVID-19 conformément aux directives gouvernementales.
*Veuillez noter que ces cartes ne sont valables que pendant la semaine de l'événement. //Please note that these event cards are only valid during the week long event.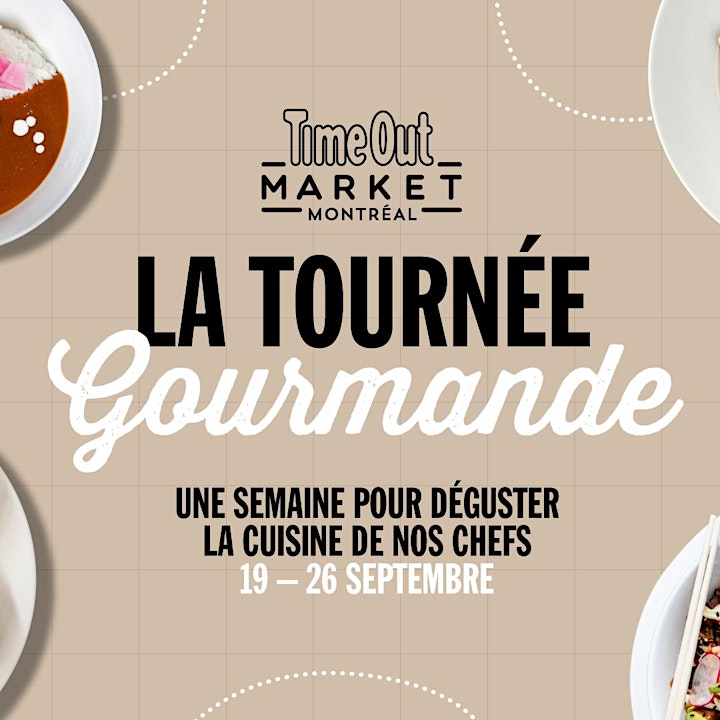 Heures // hours:
Friday 12–9p.m.
Saturday 12–9p.m.
Sunday 12–6p.m.
Monday 12–8p.m.
Tuesday 12–8p.m.
Wednesday 12–8p.m.
Thursday 12–8p.m.
Assurez-vous de laisser du temps pour obtenir votre nourriture avant la fermeture des cuisines ! //Hot tip: Make sure you leave time to get your food before kitchens close!