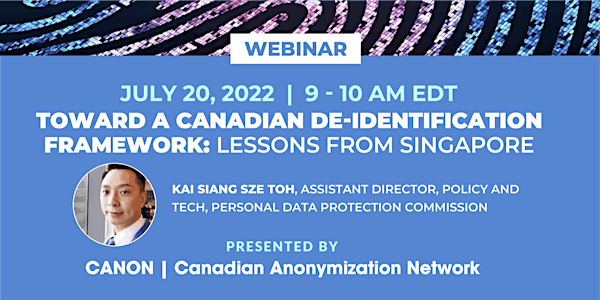 Toward a Canadian De-identification Framework: Lessons from Singapore
Join us for a discussion of experiences from Singapore's regulator in implementing their recent anonymization guidance.
About this event
The Singapore Personal Data Protection Commission (PDPC) has recently published an updated guidance for the anonymization of data, as well as a set of tools to support its implementation. The guidance balances the need to protect individual privacy and the objective of enabling responsible secondary uses of data. In this presentation hear from PDPC, Singapore's Data Protection Authority, on how they have approached regulating data anonymization, their suggested anonymization methodology, safeguards, and the resources they have developed to guide and assist businesses.
Agenda
Presentation
Kai Siang Sze Toh, Assistant Director, Policy and Tech, Personal Data Protection Commission
Mr Kai Siang, Sze Toh is Assistant Director, Data Tech, in the Personal Data Protection Commission (PDPC) / Data Innovation & Protection Group (DIPG) of the Info-Communications Media Development Authority (IMDA).
He develops policies relating to technology, authors data protection guides for the industry and supports tech investigations on data breach cases.
Prior to his current appointment, he acquired 10 years of experience in the private sector working on architecting solutions, development of mission-critical applications and systems integration.
Kai Siang graduated with a Bachelor of Applied Science (Computer Engineering) from Nanyang Technology University. He is a Certified Information Privacy Technologist (CIPT) and Certified Ethical Hacker (CEH).
Time:
9:00 am – 9:30 am
Q&A Discussion
Moderator:
Khaled El Emam, Canada Research Chair in Medical AI, University of Ottawa; Senior Scientist, CHEO RI; SVP and General Manager, Replica Analytics
Time:
9:30 am – 10:00 am