Under the direction of Elizabeth MacIsaac, Jubilate Vocal Ensemble Presents "Toward the Light"
About this event
Join Jubilate Vocal Ensemble and new musical director, Elizabeth MacIsaac in our first post-COVID concert as we look up at the night sky and recall those who have gone before us.
The repertoire is a celebration of light and beauty, and revealed in the titles: Bright Morning Stars (Kirchner), Seek Him That Maketh the Seven Stars (Dove), Lux Arumque (Whitacre), The Stars Stand Up in the Air (Barnum) and others equally sure to brighten your spirits. As a precaution, singers will be masked and COVID protocols observed.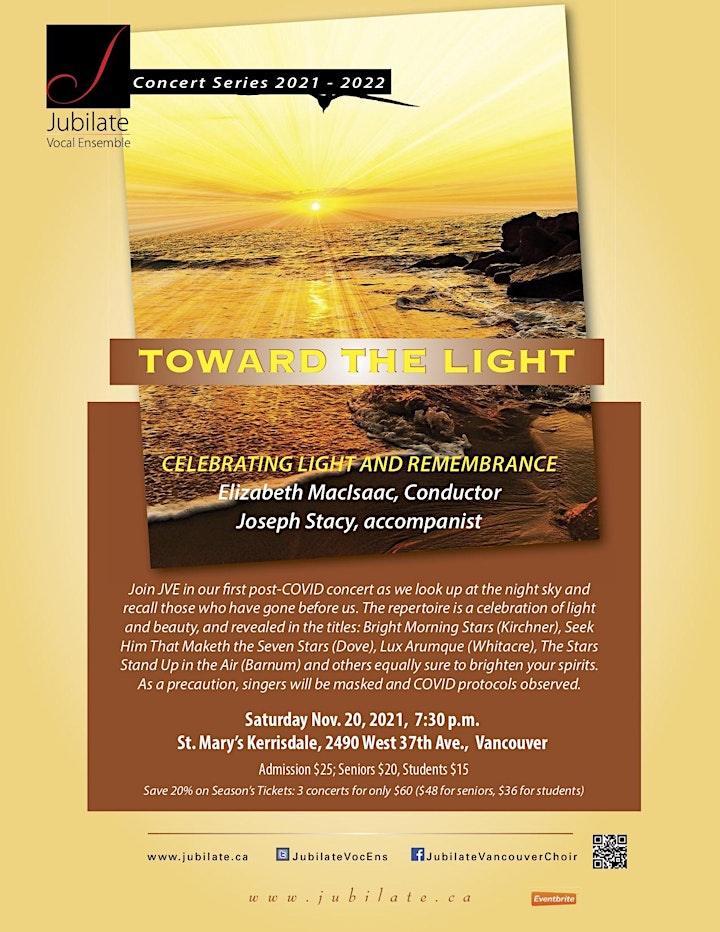 Organizer of Toward the Light - Choral Concert
Jubilate was founded by Jocelyn Pritchard and has been part of the thriving Vancouver choral community since 1993. An auditioned ensemble of 34, we strive to delight our audiences with expressive, vibrant and nuanced performances of choral music from a variety of genres, with emphasis on works by Canadian composers. You can listen to some of our past performances on our website.