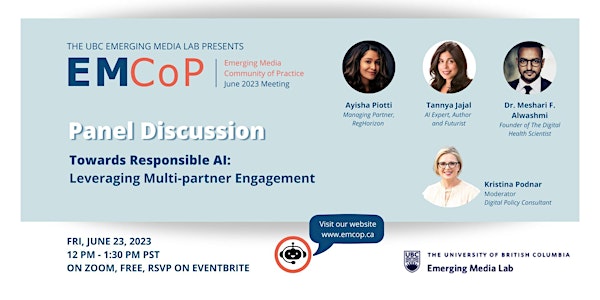 Towards Responsible AI - Leveraging Multi-partner Engagement
Panel discussion about striving towards responsible AI
By Emerging Media Community of Practice
Date and time
Fri, Jun 23, 2023 12:00 PM - 1:30 PM PDT
About this event
1 hour 30 minutes

Mobile eTicket
Please join us for the next online event to be hosted by the UBC Emerging Media Lab (EML) through the Emerging Media Community of Practice (EMCoP).
PANELISTS
Kristina Podnar, Digital Policy Consultant
Kristina Podnar is a digital policy innovator. For over two decades, she has worked with some of the most high-profile companies, governments, and non-governmental entities to see policies as opportunities to free the organization from uncertainty, risk, and internal chaos. More importantly though, she helps digital teams unlock opportunity, strengthen the brand, and liberate employees to drive innovation aligned to business strategy.
Kristina is the Principal of NativeTrust Consulting, LLC, a Digital Policy Advisor at The Cantellus Group, and the Senior Global Digital Policy Expert at the XR Safety Initiative (XRSI). Kristina also is the Executive Lead of The Metaverse Reality Check (MRC), a global oversight board for and by citizens, and a founding member of the World Metaverse Council. She has a BA in international studies and an MBA in international business from the Dominican University of California. Her book, The Power of Digital Policy was published in March 2019
------
Dr. Meshari F. Alwashmi, Founder of The Digital Health Scientist
Dr. Meshari F. Alwashmi is a renowned thought leader in the digital health sector, with a passion for innovation and patient-centered approaches. Dr. Alwashmi has a unique intersection of expertise in research, development, and adoption, making him a valuable collaborator for stakeholders across the healthcare spectrum. With over a decade of experience as a digital health epidemiologist and serial entrepreneur, he has successfully introduced new technologies to traditional medical practices.
Dr. Alwashmi is an influential mentor and advisor to numerous digital health initiatives nationally and internationally. He also serves on several esteemed boards and councils, including Forbes Technology Council, Tech NL, Bounce Health Innovation, and the University of Toronto Centre for AI Research and Education in Medicine.
Dr. Alwashmi has contributed to influential publications in the field, including articles in Nature, the Journal of Medical Internet Research, and Sage, as a guest editor at the International Journal of Environmental Research and Public Health and a peer reviewer. He is also a sought-after speaker at various events and conferences, including Hacking Health, MIT Health Hack, Harvard University, Weill Cornell Medicine University, Michigan University, and the Canadian Agency for Drugs and Technologies.
------
Ayisha Piotti, Director of AI Policy at ETH Zurich Center for Law and Economics and Managing Partner RegHorizon
Ayisha is the Managing Partner at the Swiss-based firm RegHorizon and the Director of AI Policy at the Center for Law and Economics of the Swiss Federal Institute of Technology (ETH Zurich).
Ayisha is also the visionary behind creating Switzerland's largest Global AI Policy discussion platform, attended in 2022 by 82 countries spanning six continents. Ayisha is a strategic alliance builder with a strong business background and over 20 years of experience tackling complex regulatory challenges through working with politicians, diplomatic missions, international organizations, government ministries, and consumer and business associations.
------
Tannya Jajal, AI Expert, Author and Futurist
Bio coming soon