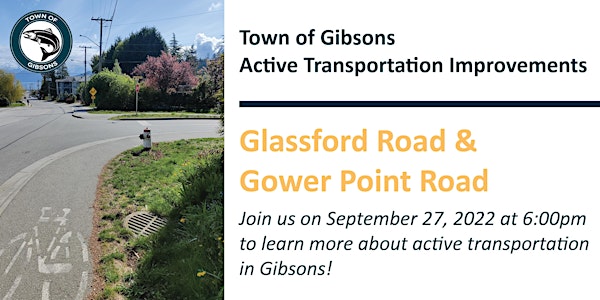 Town of Gibsons Active Transportation Improvements Workshop
A virtual workshop to learn about active transportation in Gibsons and gather feedback on potential neighbourhood improvements.
About this event
The Town of Gibsons is dedicated to making active transportation a safe and comfortable experience for community members of all ages and abilities.
In March 2021, the Town received a grant sponsored by the Ministry of Tourism, Arts, Culture and Sport to complete safe and continuous links between the tourism centres of Lower Gibsons and Upper Gibsons.
Several projects were identified at the time of the grant announcement, and currently the Town is developing improvements for Glassford Road and Gower Point Road.
We Want to Hear From You!
This virtual workshop is being held to share information about the Town's active transportation priorities and to hear your feedback on the potential improvements for both Glassford Road and Gower Point Road.
Join us Tuesday, September 27th at 6:00pm via zoom.