#TP3X, Toronto's 3rd Annual Conference for New Entrepreneurs
Description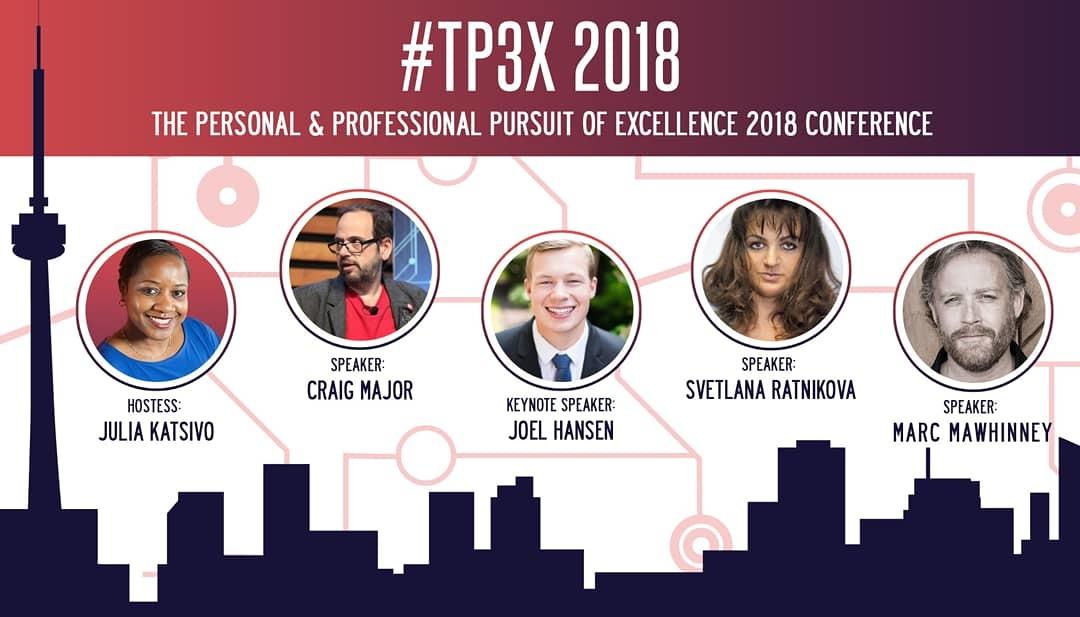 Limited tickets on Eventbrite. Please check our main website www.torontoconference.info for available tickets
The conference for new entrepreneurs who need proven and actionable mindset, sales, and marketing insights, tools, and strategies to achieve phenomenal business success.
Started in 2015 by award-winning Toronto based business startup coach Julia Katsivo, the conference focus is to provide product and service based solo entrepreneurs with the right focus on what they need to do to move forward in their businesses.
This year's conference features the best minds in mindset, sales, and marketing to help you build your business and experience phenomenal success.
Our full conference name is The Personal & Professional Pursuit of Excellence. Our mission is to produce a successful community of new entrepreneurs. New entrepreneurs have the highest fail rate in the business world - but with the right tools and information provided at the right time, this percentage is greatly reduced.
Who is this conference for?
Entrepreneurs 0 to 3 in years in business who need a jump start in mindset, sales, and marketing strategies that work in this economic era
Network marketers who need marketing and connection tools and strategies that bring in profit
Speakers, coaches, and other consultants who need visibility and branding tools
Why you should attend:
Past attendees have told us that they receive more in a day at our

#TP3X

conference than a full year's training program or experience. The value we bring in showing you what will work for your business today is reflected in the carefully chosen speakers and sponsors.
We deliberately attract high energy and action oriented attendees. Connections, partnerships, and clients are found in our conference. Friends are made. The impact is real and lasting.
If getting unstuck, growing your business, and experiencing phenomenal business success is your goal - our conference is the place to start.
---
Learn to identify ideal clients and quickly move them through marketing funnels.
Explore monetization and startup strategies for social enterprises.
Build engaged email lists that bring in clients with zero paid advertising.
Discover the power of brand building on LinkedIn and other platforms.
Our promise to you at the end of this conference is that you'll have a better grasp of your marketing plan. You'll gain tools and resources from your 1-on-1 coaching session with our experts. You'll meet partners, clients, and friends for life at our conference.

#TP3X is carefully designed for the new entrepreneur who has unique struggles.
For more information please visit www.torontoconference.info
NO DOOR SALES