Event Information
Location
Innis Town Hall Theatre
2 Sussex Avenue
Toronto, ON M5S 1J5
Canada
Join the Toronto Palestine Film Festival's (TPFF) in-person Nakba Commemoration Screening of the animated film "The Tower"!
About this event
🗝️ TPFF's annual Nakba Commemoration will return in-person this year with a screening of the animated film for all-ages The Tower, directed by Mats Grorud.
WHEN/WHERE:
The FREE screening will be live in-person at Innis Town Hall Theatre in Toronto on Friday, May 13, 2022. Doors open at 6:00 pm EDT. Register on Eventbrite.
This event is in partnership with The University of Toronto's Hearing Palestine, Centre for the Study of the United States, The Palestine Forum, Cinema Studies and Urban Studies.
ABOUT THE FILM:
The Tower explores the story of the Nakba through the eyes of a young Palestinian girl. Wardi, an eleven-year-old Palestinian girl, lives with her whole family in the refugee camp in Beirut where she was born. Her beloved great-grandfather Sidi was one of the first people to settle in the camp after being exiled from his home in the Galilee in 1948. One day Sidi gives her the key to his old house, and Wardi fears he may have lost hope of someday going home. As she searches for Sidi's lost hope around the camp, she collects her family's testimonies, from one generation to the next.
The film's captivating animated characters, provide humour and an uplifting message of hope amid the darker historical moments told in the film.
Watch the film trailer.
ABOUT TPFF:
The Toronto Palestine Film Festival (TPFF) is a volunteer-run, non-profit organization dedicated to bringing Palestinian cinema, music, cuisine and art to GTA audiences. TPFF was conceived in 2008 to commemorate the 60th anniversary of Al-Nakba.
Visit tpff.ca to learn more and sign up for our newsletter.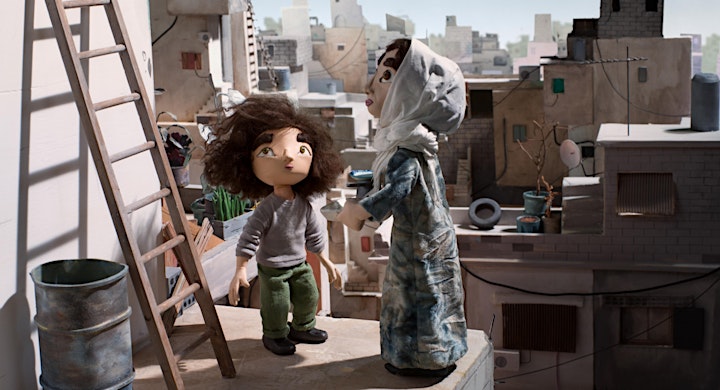 Date and time
Location
Innis Town Hall Theatre
2 Sussex Avenue
Toronto, ON M5S 1J5
Canada