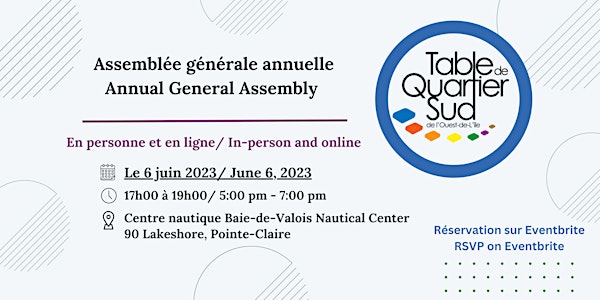 TQSOI Annual General Meeting 2023 | Assemblée Générale Annuelle 2023
The TQSOI is inviting you to its AGM! La TQSOI vous invite à son AGA !
By Table de Quartier Sud de l'Ouest-de-L'Île (TQSOI)
Date and time
Tue, Jun 6, 2023 5:00 PM - 7:00 PM EDT
Location
Centre nautique Baie-de-Valois Nautical Center 90 Chem. du Bord-du-Lac-Lakeshore Pointe-Claire, QC H9S 4H7 Canada
About this event
The TQSOI's 2023 Annual General Meeting is an event designed to showcase our activities and collaboration efforts. We invite all members and non-members to participate by registering for the event!
As we did last year, we'll be hosting our AGM using a hybrid format again. This means that people will be able to join us online via Zoom or in-person at the Baie-de-Valois Nautical Center in Pointe-Claire. Please specify how you plan to attend when selecting your ticket.
We encourage everyone to join us in-person! You will have the opportunity to network with others as of 4:30pm as well as after the AGM. Food and drinks will be provided!
Those that register will receive an email a few days before the event with information related to their participation, including the Zoom link to join, the agenda, the minutes for the 2022 AGM, a copy of the TQSOI 2022-2023 Annual Report, and more!
If you have any questions, contact Valérie Laramée at vlaramee@tqsoi.org.
L'assemblée générale annuelle 2023 de la TQSOI est un événement conçu pour mettre en valeur nos activités et nos efforts de collaboration. Nous invitons tous les membres et non-membres à participer en s'inscrivant à l'événement !
Tel que nous l'avons fait l'année dernière, nous organisons de nouveau notre AGA en utilisant un format hybride. Cela signifie que les gens pourront nous rejoindre en ligne via Zoom ou en personne au Centre nautique Baie-de-Valois à Pointe-Claire. Veuillez préciser comment vous prévoyez assister à l'AGA lorsque vous sélectionnez votre billet.
Nous vous encourageons à participer en personne ! Vous aurez l'opportunité de faire du réseautage à partir de 16h30 ainsi qu'après l'AGA. Nourriture et boissons seront servis !
Les personnes qui s'inscriront recevront un courriel quelques jours avant l'événement avec des informations relatives à leur participation, y compris le lien Zoom pour se joindre, l'ordre du jour, le procès-verbal de l'AGA 2022, une copie du rapport annuel TQSOI 2022-2023, et plus encore!
Si vous avez des questions, contactez Valérie Laramée à vlaramee@tqsoi.org.
About the organizer
À propos du TQSOI
La Table de Quartier Sud l'Ouest-de-l'Île (TQSOI) est un organisme sans but lucratif qui réunit tous les citoyens et acteurs provenant du milieu communautaire, institutionnel, privé et politique dans le but d'améliorer la qualité de vie, surtout pour les gens plus vulnérables, et favoriser le développement social du sud de l'Ouest-de-l'Île.

About the TQSOI
The Table de Quartier Sud de l'Ouest-de-l'Île (TQSOI) is a non-profit organization that unites all citizens and individuals involved in local community organizations, institutions, businesses and political life, to improve the quality of life and to favour social development in the south of the West Island.