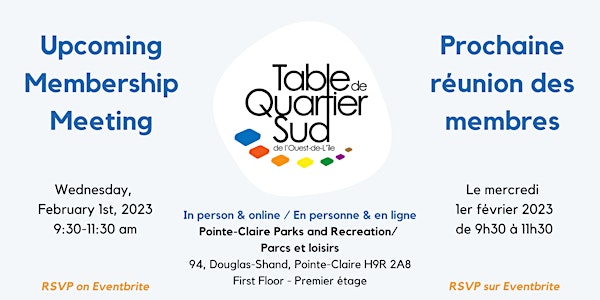 TQSOI Membership Meeting | Réunion des membres
The TQSOI is inviting you to its Membership Meeting! La TQSOI vous invite à la réunion des membres!
When and where
Location
Pointe-Claire Parks and Recreation/ Parcs et loisirs 94 Avenue Douglas-Shand First floor/ premier étage Pointe-Claire, QC H9R 2A8 Canada
About this event
The TQSOI is inviting you to it's membership meeting.
We will be hosting our membership meeting using a hybrid format. This means that people will be able to join us online via Zoom or in-person at the Pointe-Claire Parks and Recreation building. Please specify how you plan to attend when selecting your ticket.
We encourage everyone to join us in-person! Pastries, coffee and tea will be provided!
Those that register will receive an email a few days before the event with information related to their participation, including the Zoom link to join, the agenda as well as the minutes from the November membership meeting.
Please note that Mélanie Safi, from the Montreal West Island IUHSSC , will present the results of the consultation of community organizations and citizens held in the summer of 2022. These surveys were conducted as part of the Integrated Regional Action Plan for Public Health.
If you have any questions, contact Valérie Laramée at vlaramee@tqsoi.org.
La TQSOI vous invite à sa réunion des membres.
Cette réunion sera organisée en utilisant un format hybride. Cela signifie que les gens pourront nous rejoindre en ligne via Zoom ou en personne au bureau des parcs et loisirs de Pointe-Claire. Veuillez préciser comment vous prévoyez assister à la réunion lorsque vous sélectionnez votre billet.
Nous vous encourageons à participer en personne ! Pâtisseries, thé et café seront servis !
Les personnes qui s'inscriront recevront un courriel quelques jours avant l'événement avec des informations relatives à leur participation, y compris le lien Zoom pour se joindre, l'ordre du jour, ainsi que le procès-verbal de notre réunion du mois de novembre dernier.
De plus, lors de cette réunion, Mélanie Safi, du CIUSSS Ouest-de-l'île de Montreal, viendra présenter les résultats de la consultation des organismes communautaires et des citoyens tenue à l'été 2022. Ces sondages ont été fait dans le cadre du Plan d'action Régional intégré en Santé Publique.
Si vous avez des questions, contactez Valérie Laramée à vlaramee@tqsoi.org.