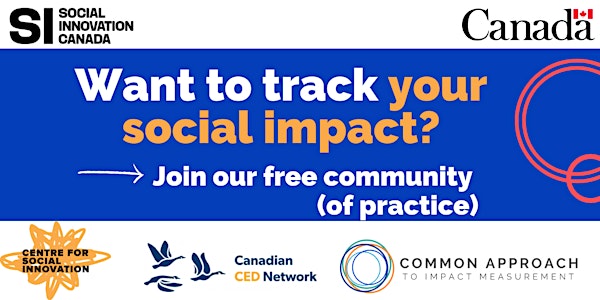 Track your Social Impact: Community of Practice
Join this Community of Practice hosted by Adopting Common Measures Team and make better data-based decisions by tracking your social impact!
About this event
TRACK, MEASURE & REPORT your social Impact!
We are back with our Community of People hosting 8 sessions: 1.5 hour long each from September-December 2022.
Adopting Common Measures is a project funded by Government of Canada, helping organizations like YOURS to build capacity around impact measurement.
This is a proposed NATIONWIDE discussion around how your organization can effectively track, measure and report progress towards the United Nation Sustainable Development Goals.
This initiative is led by Social Innovation Canada (SI Canada) and the Canadian Community Economic Development Network (CCEDNet), with the support of Common Approach to Impact Measurement.
Why join?
Strengthen your network within an impact-focused community
Access to an 'Impact Dashboard' platform to track your data
Take part in 5 essential practices to measure social impact
Engage in peer and experiential learning
Upon successful completion members will be eligible to receive a Professional Development Certificate: Tracking Social Impact using Common Foundations. This certificate will confirm an understanding and application of the planning, measuring and reporting efforts of your impact.
What to expect? Adopting Common Measures - CoP Structure
Feel free to reach out to us at paluck@sicanada.org or a.applin@ccednet-rcdec.ca.