A conversation about trade, innovation, R&D and tech developments in resilient food systems. Join the talk!
About this event
Our food systems have undergone dramatic changes over the past several years; this has been exacerbated in recent times by the pandemic. Yet, resilience is emerging as a force of change in re-orienting concepts, attitudes and initiatives in food systems narrative. In this webinar, industry experts in the food and agricultural industry talk about trade, innovation, R&D and technology developments in their space and the relationship between these developments and sustainable development goals in their countries.
Speakers:
Dr. Peter Oksen, Green Technology and Research Manager, Climate Change & Food Security, Global Challenges Division, World Intellectual Property Organisation (WIPO), Geneva
Dr. Barry McGookin, General Manager - Innovation, Food Innovation Australia Limited (FIAL) - Melbourne, Australia
Gusland McCook, Advisory & Research - Jamaica Agricultural Regulatory Authority (JACRA) - Jamaica
Dr. Annika Minott, Plant Health Specialist - Caribbean Agricultural Research and Development Institute (CARDI) - Cayman Islands
Erik Valiquette, President - Canadian Blockchain Supply Chain Association, Quebec Canada| Founder, Blockchain Supply Chain
The Hon. Minister Kyle Hodge, Minister of Economic Development, Information Technology and Natural Resources, Anguilla
Chair: Dr. Marsha Simone Cadogan, PhD (Intellectual Property) - Canaan Bridges Consulting Inc.
Kindly keep your Order number handy. There will be a random draw for two coffee gift packages from JACRA's world renowned brand - Jamaica Blue Mountain and High Mountain Supreme Coffee, compliments of Gold Cup Coffee Company Ltd.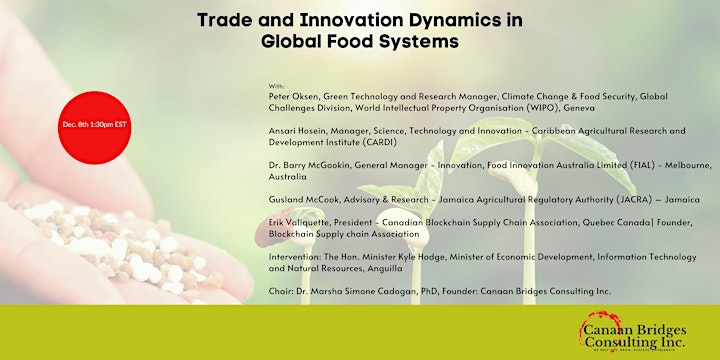 Organizer of Trade and Innovation Dynamics in Global Food Systems
Canaan Bridges Consulting Inc. knows that how you position yourself in the global marketplace makes the difference between success and failure. Canaan Bridges Consulting Inc. provides intellectual property, trade-related and development consulting to a wide range of stake holders. Our focus includes firms, governments, early-stage entrepreneurs and other organizations in developed, emerging and least developing countries.