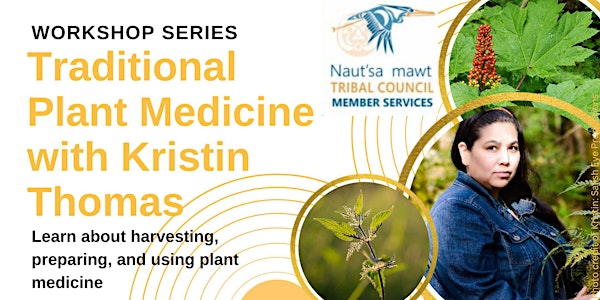 Traditional Plant Medicine with Kristin Thomas
Traditional Plant Medicine with Kristin Thomas
About this event
Please join NmTC's Community Food Network for two virtual sessions with Knowledge Holder Kristin Thomas, who will lead us through harvesting, preparing and using plant medicine.
About Kristin
Kristin Thomas, from Halalt First Nation, has a passion for medicinal plants and traditional healing, and sharing the plant knowledge that was passed down to her as a child. She has studied traditional herbal wellness with Dr. Jeanne Paul of Tla'amin Nation, and earned her Herbal Practitioner Certificate at the College of the Rockies.
She's given many presentations, hands-on medicine making workshops and plant walks, and is excited to share her knowledge and skills with NmTC member Nations.
Session #1: Thursday, September 22nd
6:00 to 8:00 PM
Virtual
In this first session, Kristin will discuss harvesting, identifying, growing and using medicinal plants. We will also open up part of the session for Q&A. Bring all your questions about specific plants, ailments, and preparations!
As part of the workshop series, we will be sharing a short video of Kristin on the land harvesting medicine, filmed and produced by Salish Eye Productions.
Session #2: Thursday, October 20th
6:00 to 8:00 PM
Virtual
In the second session, Kristin will lead us through the preparation of a medicinal salve and roller, with plant medicine harvested by Kristen.
Participants registered for the second session will be mailed the kits in advance. The kits will include the materials to prepare the medicinal salve and roller. More details will be released closer to the session.
Participants limited to 50.