Location
Regent Park Community Centre (Dance Studio - 2nd floor)
402 Shuter St
Toronto, ON M5A 1X6
Canada
Sales Have Ended
Registrations are closed
Thank you for supporting the inaugural edition of the Yensa Festival!
Yensa Festival invites you to explore Traditional African with Lua Shayenne - with live drums.
About this event
Lua Shayenne's traditional W. African dance workshop with live percussion is adapted to all levels.
Lua leads a free flowing warmup to start the session followed by sequences of movement accompanied by live drumming. Emphasis is given to developing a musical ear and coordination. Lua shares the name, the cultural and social context of a specific dance from West Africa and her accompanying percussionist introduces the instrument he is playing, its origins and how it is made. Participants are led into fun polyrhythmic hand-clapping, engaging call and response and song.
I'm an artist who tells stories, through dance, song and word.
My art practice is embedded in my cultural roots and my spiritual beliefs. I am continuously investigating and incorporating the practice of Seselelame (Southern Ghana) and studying the Baha'i Writings where art is "a gateway into spiritual worlds". Seselelame - literally means "feel feel at flesh inside" - expands beyond the 5 senses and kinesthesia and expresses one wholesome state of being.
My goal is to "effect (bring about) a spiritual conquest" by establishing a relation with the human hearts and create art that is original but preserves the authentic spirit of my culture and Faith. My art is a spiritual practice in service to my community and a channel for presenting contemporary narratives and preserving tradition. Tradition, to me, is not to blindly imitate my ancestors and forefathers but to discover for myself the "reality of things".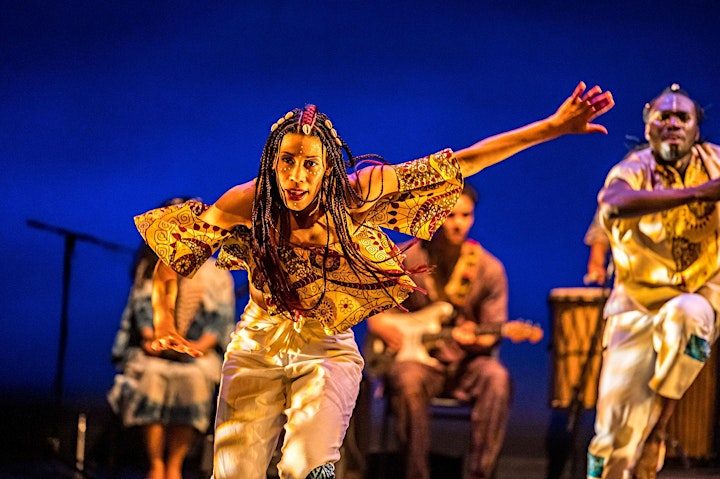 Lua Shayenne weaves stories, through dance, song and word. Her art practice is embedded in her African roots and her Faith. Her goal is to "effect a spiritual conquest" by establishing a relation with the human hearts and create original, inspiring and relevant art.
A 2016/17/18 K.M. Hunter Dance award nominee and a recipient of the 2013 BMO seeds Fund Award for Artists working in community, Lua is the creator and interpreter of the dance theatre children series titled, Tales and Dances Around the Baobab of which Yassama and The Beaded Calabash, is the fourth tale. Lua is the artistic director of Dora nominated, Lua Shayenne Dance Company (LSDC). LSDC blends dance, music and storytelling rooted in West African culture with contemporary art forms and social commentary. Lua is currently creating WAVES | VAGUES and FRONTIERS | FRONTIÈRES for LSDC. Through LSDC, Lua has also launched YENSA Festival – a biennal festival that celebrates women in dance.
Performing highlights include HOLOSCENES tours in the US, UK, Abu Dhabi & Australia, Été au Théâtre in Italy, Fall for Dance North, Luminato, Dusk Dances, d:mic and more.
Lua teaches at Toronto Metropolitan University's dance program and brings African dance, music, storytelling and culture to grassroots organizations and schools all over Canada and Europe.
Luashayenne.com | lG/FB: Luashayenne