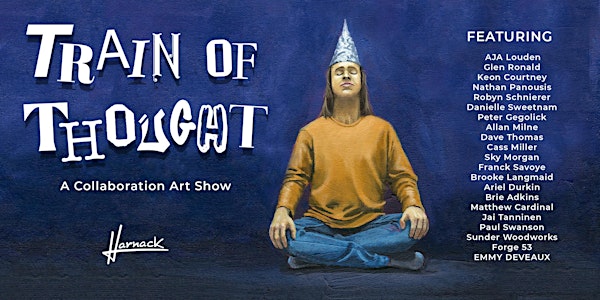 Train of Thought: Art Exhibition
Train of Thought is a seemingly chaotic series of fine art collaborations taking the audience on an introspective ride of connection.
When and where
Location
The Creative Hive 16819 111 Avenue Northwest Edmonton, AB T5M 2S4 Canada
About this event
Event Features:
Unveiling of 20 new mind-bending collaborative artworks produced by Josh Harnack in conjunction with Edmonton's art community.
See each piece from a new perspective via the original with Before and After comparisons.
Read through 20 original poems by Josh Harnack that give order to chaos weaving a cohesive narrative across all paintings.
Live Music from Kahtja & Idle Worship
Meet artists featured in the show from Edmonton's Art Community
Bar Drinks & Snacks
Prints & Merchandise available for sale
VIP Tickets come with an intimate 1hr meet and greet with artists and a limited edition 10x16" paper print of Josh's latest animal painting "Crow".
Featuring Artists Aja Louden, Glen Ronald, Keon Courtney, Nathan Panousis, Robyn Schnierer, Danielle Sweetnam, Peter Gegolick, Allan Milne, Dave Thomas, Cass Miller, Sky Morgan, Franck Savoye, Brooke Langmaid, Ariel Durkin, Brie Adkins, Matthew Cardinal, Jai Tanninen, Paul Swanson, Sunder Woodworks, Forge 53 and EMMY DEVEAUX
Aimed at reconnecting the art community, this contemporary post-pandemic exhibition will consist of original artwork collected from Edmonton-based artists who have unfinished, unwanted, unsellable, or uninspired pieces that have been deemed "lost" in one way or another. Artist Josh Harnack has taken these artworks and brought them new life by introjecting his own confound manifestations, relating them all to the theme of connection through visual symbolism and poetry.
Over the course of the Covid-19 pandemic, we have been forced to use the tools of our digital world as a means of connection to replace the more physical and intimate forms. Though there are many conveniences to this, the balance of communicative power has shifted. These digital forms of connection lack depth, and nuance. Because of this, we must rebel. We must choose to seek out meaningful experiences in the name of belonging, community, and purpose. For our society, for our neighbours, for our souls.
Josh's rebellion connects these artists, their work, and more broadly, the public by bringing about a new era of artistic collaboration as a stance against the isolation and dilution of meaningful connection brought on by the pandemic and the digital age. This endeavour highlights the importance of tangible collaboration and personal connection that holds our communities together. Josh hopes to inspire the public to take action in the form of seeking out their own meaningful connections and ways of collaborating with one another.