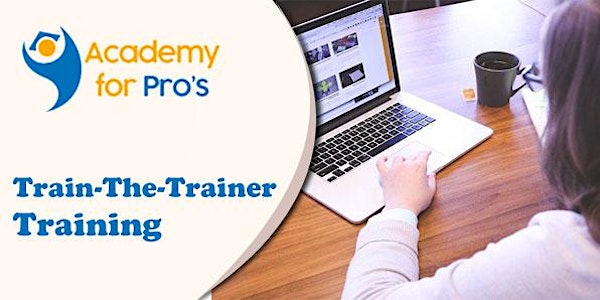 Train-the-Trainer 1 Day On-Site Training in Ontario
Take Your Organization to the Next Level With Our On-Site Training at Your Own Premises. You Can Customize the Training Content, Date & Time
When and where
Location
Training at your own premises or your preferred venue. PH: +1 469 666 9332 Ontario, ON V1Y 0B5 Canada
Refund Policy
Refunds up to 7 days before event
About this event
On-site training is becoming more and more of a necessity for organizations around the world, specialized training in accordance with the organization's needs helps teams become more productive and innovative.
Boost your employees skills to help them reach their potential to the next level. We conduct onsite training at your convenience. Travelling costs, Accommodation costs are less or can be removed. The onsite training option is more cost effective if your business has a number of personnel who require training at the same time. This training is more flexible in terms of scheduling.
You choose your own date and we tailor the training on your own premises. Our training Improves internal communication within your organization.
We have best trainers in the industry that best suits you – face-to-face instruction on your business premises. This course is designed by experienced professionals in accordance with Industry requirements, however you could customize your training content according to your needs.
View our Course Content.
Advantages of On-Site training:
Location: The biggest advantage of on-site training is the location. With the training done on the company's premises, employees save valuable time
Privacy: Delicate organizational data can be shared by members and utilized as solid illustrations. Upper-management may train specific mid-leveled executives on the internal workings of the organization.
Customization of Program Content: Organizations have the ability to tailor each and every aspect of the training process as well as customize the lessons according to the company's own policies. Guiding employees on which area's the organization would like them to focus on for a specific time period or financial year.
Boosts employee productivity and profits: Employees are able to build new skills, develop existing skill sets, and gather new knowledge about products and services that will boost their on-the-job productivity.
Employees have access to training that works around their schedule: With on-site training, training can be scheduled to the organization's needs and learning and development professionals can plan training to suit their own employees rather than the usual classroom style.
For any assistance, please reach us at "info@academyforpros.com".
Note:
However, catering to the demands of busy professionals, our virtual training programs are as effective as face-to-face learning. Reach us at info@academyforpros.com for dates and details of Instructor Led Live Virtual Session.
If you would like to get this course delivered exclusively for professionals, we have Classroom Training option. You can reach us at info@academyforpros.com for more details about classroom training.