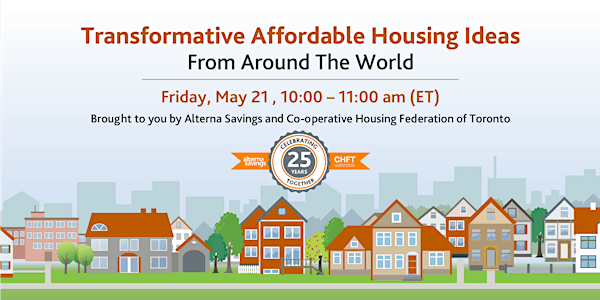 Transformative Affordable Housing Ideas From Around The World
Share your affordable housing stories and discover other incredible housing initiatives!
About this event
In recognition of UNESCO World Day for Cultural Diversity for Dialogue and Development (May 21, 2021), Alterna Savings welcomes you to join us for an online affordable housing discussion.
We will be presenting international affordable housing projects from leading organizations in the space. These stories will inspire and help you find creative solutions to the housing problems you care about.
Included in this event is an open discussion where we will examine,
How we can improve access to affordable housing,
How access to affordable housing improves local economies, and
Inspirational new ideas and possibilities.
We hope that this conversation ignites imaginations and helps to inform lasting, affordable housing solutions.
Insights from
Cooperative Housing Federation of Toronto
Australian Network for Universal Housing Design
Dark Matter Labs
Academics working in the sector
Host
Alia Abaya, Director, Community Impact and Member Experience
Alterna Savings and Credit Union
www.linkedin.com/in/alia-abaya
Here are the detail to join:
Join from a PC, Mac, iPad, iPhone or Android device:
Please click this URL to join. https://alterna.zoom.us/j/95630533834
Passcode: 742183
Or One tap mobile:
+15873281099,,95630533834#,,,,*742183# Canada
+16473744685,,95630533834#,,,,*742183# Canada
Or join by phone:
Dial(for higher quality, dial a number based on your current location):
Canada: +1 587 328 1099 or +1 647 374 4685 or +1 647 558 0588 or +1 778 907 2071 or +1 204 272 7920 or +1 438 809 7799 or 855 703 8985 (Toll Free)
Webinar ID: 956 3053 3834
Passcode: 742183
International numbers available: https://alterna.zoom.us/u/apfh5crBm