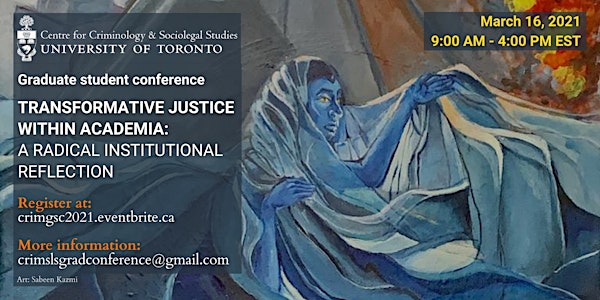 Transformative Justice within Academia: A radical institutional reflection
Graduate Student Conference 2021
About this event
View the full conference program
The Centre for Criminology and Sociolegal Studies Graduate Student Conference wants you to experience the common tenets of academic conferences—virtually! Transformative Justice within Academia: A Radical Institutional Reflection is thoughtfully organized to reinvigorate the academic community's love for deep, thoughtful and creative discussions with colleagues, networking opportunities as well as sustenance in the form of food to keep us going throughout the day.
The aim of this conference is to engage in conversations about structural and systematic inequality, social and racial injustices towards a radical institutional reflection of academia, a place that has long established itself as an exceptional, progressive, critical, and safe environment. As academics focused on institutional violence embedded within the Canadian legal framework, we call for an internal investigation of how similar processes of violence are augmented in academia. Through an application of a radical institutional reflection, the conference papers focus on curriculum, policies & procedures as well as personal experiences of historically marginalized groups in the field of criminology and sociolegal studies. As student researchers who are responsible for shaping the future of the field of criminology and socio-legal studies, this conference serves to imagine critical and radical transformative justice that starts from within the very institution we are all a part of.
Please refer to our conference schedule for more information. This is an open event; everyone is welcome to attend. If you have special accessibility needs, please send us a request 14 days prior to the event. This is to ensure that we are able to provide the requested service. We do not require documentation from doctor etc for request for accommodation.
Contact: crimslsgradconference@gmail.com