Description

This one-day workshop will inspire agri-enterprises to seize new market opportunities, maximize employee performance, and offer tools to assist with go-to-market strategies. This workshop is open to anyone engaged in agriculture, agri-food, and bio-based materials.
---
WORKSHOP AGENDA: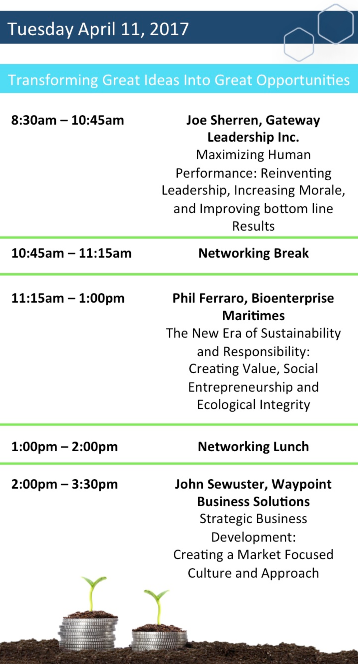 ---


Guest Speakers:
Joe Sherren, Gateway Leadership Inc.
Today's successful businesses are creating a flexible, customer-focused, and collaborative culture. To achieve that, management will need to truly understand the new generationally diverse workforce and how obsolete mental conditioning is the biggest inhibitor to organizational success.
Maximizing Human Performance is a dynamic wake-up call, which will benefit management in dealing with current employee issues. This unique and powerful keynote will help participants deal with new work-place expectations, shifting loyalties, the technology explosion, and different reporting relationships where roles are sometimes vaguely defined.
Joe's inspirational message of transformation and optimism will enrich those searching for success and personal fulfillment.
Phil Ferraro, Bioenterprise Maritimes
Much has been written about the ages of commerce. The topics range from start-up enthusiasm to competitive exhaustion with various theories of leadership styles thrown in-between.
However, the global imperatives set upon us in the 21st century demand a new perspective on how businesses must operate. Continued prosperity, while faced with the threats of resource depletion, climate change and population growth will depend on the level of responsibility an enterprise assumes to transform from problem creators to solution providers.
Phil's revolutionary workshop will inspire business leaders to respond to emerging issues, and seize new market opportunities while assessing the business' commitment to social, economic and environmental sustainability.
John Sewuster, Waypoint Business Solutions
When it comes to commercializing a product or service, failure to apply or even consider basic marketing and sales fundamentals can be disastrous. Regardless if it's a complete expansion into a new market or distribution channel, or the initial launch of a product into the local market, a company has to ensure it has done what's need to be done to maximize the potential for success.
Applying some basic tools and techniques within a corporate culture that is consumer, customer and market centric, can shield a company from making the wrong investment and business decisions. This is especially true in the early stages of a product's development, when one may only have one chance for a successful launch.
John will present and discuss a number of approaches and tools to help your company improve its ability to bring your product or service to market.
---
CONTACT US
Phil Ferraro, Director
Bioenterprise Maritimes
(902) 368 - 2005