Join the Gender Equality Coalition of Ontario as we explore Transgender and Equality in recognition of the Transgender Day of Remembrance.
About this event
Join us for a panel of speakers to hear about issues surrounding gender equality and the transgender community.
Moderator
Jeanette Novak
Jeanette hails from "the other London", England and made her way to Canada over 20 years ago. A group Benefits and Insurance Advisor by day and Fitness Instructor in the free hours in between, helping people has been a passion since she can remember. Being a Mom of two amazing humans, Jeanette is passionate about ensuring that they experience equity and equality in all aspects of their lives. "As a member of the Gender Equality Coalition of Ontario I have the opportunity to take a deeper dive into the issues and challenges we face in our region around gender equality and I'm eager to get my boots dirty"
___________________________________________________________________
Panel
Jordan Ward
Jordan studied chemical engineering at McMaster University graduating in 2014. She currently works as a Lead Application Engineer for SUEZ Water Technologies and Solutions in their municipal water division. Jordan lives in Cambridge Ontario with her wife, two young children and their dog Fable. She enjoys camping, cooking, board games and sports, and loves talking about beer, coffee and pizza.
___________________________________________________________________
Tea-Lynn Van Dyk
Tea-Lynn is a 37 year old trans woman living in Norfolk County. She grew up in the Belleville area, attending Loyalist College, where she then worked in radio broadcasting for 12 years. During that time she overcame her own fears and self hatred, taking off her conservative upbringing to be who she was meant to be. She went from someone who literally preached hellfire on street corners to a staunch and firm ally of the LGBTQIA2S community, finally to becoming a member after some very hard exploration of herself and her personhood. She began transition at the age of 35. Her marriage of nearly 14 years has not only survived but thrived with her wife Gabrielle being her biggest supporter and best friend. They have two wonderfully supportive daughters, Arya and Adelaide, and share a joint Instagram account to share their story: @astraightgirlandherwife
___________________________________________________________________
Terri McDowell
Terri, CCPA, is currently the Tax Managing Partner, Financial Services, Canada and a partner in the International Tax and Transaction Services group of Ernst Young.
Terri is the advisor to a number of global companies, has served on the council of the Chartered Accountants Board of Examiners, and numerous Associations.
Terri has been a faculty member for a number of professional development courses, has authored a number of tax policies and position papers and is a frequent speaker at professional events.
Terri was a 2021 panelist regarding the U.N.s Standards on Anti-Discrimination, in conjunction with the World Economic Forum.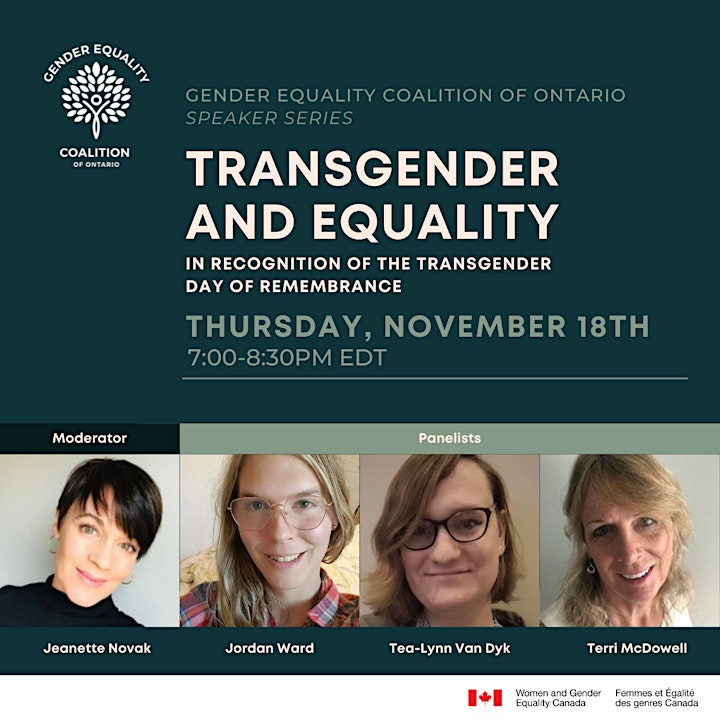 Organizer of Transgender and Equality
Founded in 2019 the Gender Equality Coalition of Ontario is a non-sectarian, non-profit, and non-partisan organization that works to empower all genders to achieve gender justice in our society. Through our Speakers Series we hope to provide a connection for individuals, organizations, businesses and government to discuss issues of inequality and create solutions.