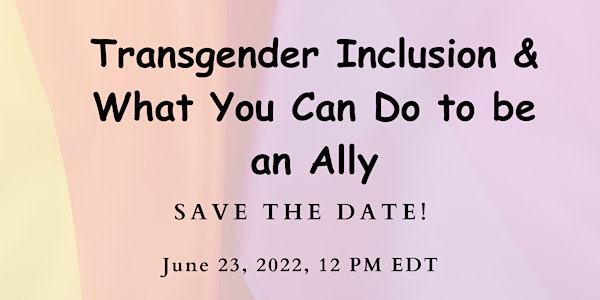 Transgender Inclusion & What You Can Do to be an Ally
Attendees will learn about the experiences and needs of the transgender community and the tools to be able to meet those needs.
Refund Policy
Contact the organizer to request a refund.
Eventbrite's fee is nonrefundable.
About this event
Ben will share his story as an openly transgender man who came out at 15-one of the first to do so in his entire town. Despite being a rapidly-growing group of over 3 million individuals, trans, nonbinary, and gender-nonconforming people are very often left out of DEI efforts and conversations. After reviewing what it means to be transgender and all of the language that comes up in these conversations, we'll discuss issues facing the transgender community in the workforce and the world at large, why it matters to be proactive about your company, and what your organization can do to create a safe, supportive environment for all people. Ben will close out the session with a 100% judgment-free Q&A where attendees can ask any burning questions, talk through new strategies, and address any lingering misconceptions they may have had about the transgender community.
Learning Objectives:
Leave with a strong understanding of what it means to be transgender.
Understand the importance of active allyship in all scenarios.
Feel equipped to be active allies to transgender and LGBTQ+ people in all areas of life.
As one of only two openly transgender people in his hometown, Ben Greene has always been the "designated educator." After giving a TEDx talk during his sophomore year of college at Brandeis University, he took his personal experience of transitioning and transforming and used it to inspire peers, professors, and the public at large. Since graduating from Brandeis University in the summer of 2020, he has spoken in many different domains with the purpose of educating others from a place of compassion no matter where they're starting from. In pursuit of his passion for a more inclusive community, Ben now works full-time in education and advocacy as a public speaker and LGBTQ+ inclusion consultant speaker, and LGBTQ+ inclusion consultant.
Unstoppable Performance Leaders (UPL) is a global consultancy providing best in class solutions, support, and expertise in Diversity, Equity & Inclusion, Organizational Performance, and Change Management to organizations that aspire to leverage effective performance, belonging, and inclusion as key business drivers. Our network of business partners and performance leaders gives us the depth and diversity to perfectly match client needs to services. Here are SOME of the many LGBTQIA+ Workshops, Keynotes & Education Sessions that Unstoppable Performance Leaders are offering last minute to support YOU with Celebrating YOUR LGBTQIA+ teammates.... and the list continues to grow...