Description
This one-day workshop acknowledges the prevalence and significant impact of trauma in an individual's life and aims to inform service providers how to apply a trauma-informed lens to their current practice. Learning to deliver services in this way will allow service providers to appreciate the context in which their clients live without contributing to these traumatic experiences.
Trauma-informed care aims to provide services in ways that recognize the client's need for emotional and physical safety, as well as provide the opportunity for client choice, control and collaboration in one's own support and services provided. (Arthur et al., 2013)
This workshop will define and describe the six main trauma-informed principles outlined in the literature and will focus on how to translate these principles into practice.
By the end of this workshop, participants will be able to:
Define trauma and understand the different types of trauma

Identify the signs and symptoms of trauma

Define and understand trauma-informed practice

Identify the main principles of trauma-informed practice

Understand how to implement trauma-informed principles into their own practice

Recognize the impact working with trauma can have on a practitioner and understand the importance of self-care and reflective practice
About the Facilitator:
Line Perron is the founder and Director of ECDSS. She has a degree in Psychology and Sociology, a Masters in Family Ecology and Practice, and a certification in Indigenous Early Childhood Development Leadership and Management. Line has more than 30 years of teaching and facilitation experience and brings passion and energy to the field of early childhood. She sits on the Alberta Early Leraning and Care Learder's Caucus, is a board member for Alberta Child Care Association as well as Change for Children. Fluent in French, she also provides some ECDSS workshops to the Francophone community.
About Trauma Informed Edmonton:
Trauma Informed Edmonton (TIE) is a committee that focuses on producing effective training and resources for frontline workers working with high risk populations, as well as facilitating access to trauma informed resources and professionals.
Notice to Registered Social Workers:
TIE workshops are eligible for Category A credits with the Alberta College of Social Workers if they align with your personal learning goals for the year and you submit a Category A Summary Form in your personal portfolio.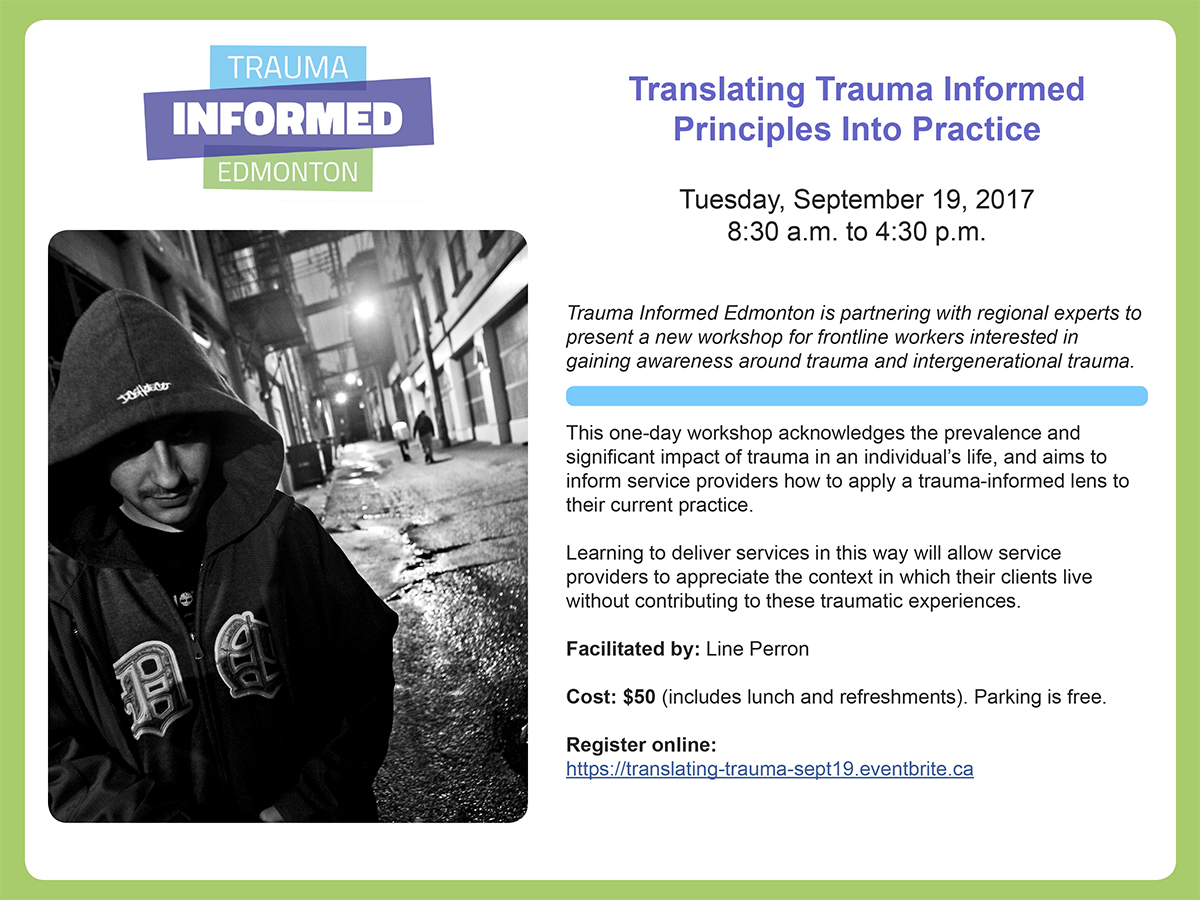 Due to the high demand of this workshop, we are unable to refund payments or transfer payments to other sessions.