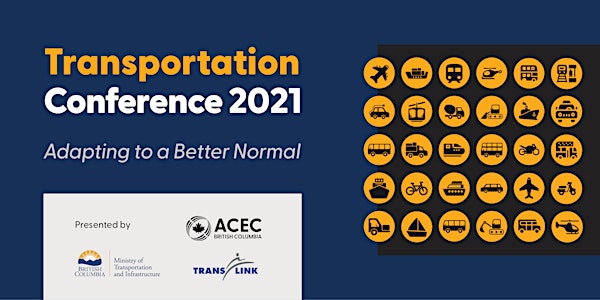 Transportation Conference 2021: Recorded Content Access
British Columbia's Largest Transportation Sector Conference
About this event
This is access to the recordings of the sessions held on January 25-28, 2021.
The Association of Consulting Engineering Companies British Columbia, in partnership with the Ministry of Transportation and Infrastructure and TransLink, is proud to host the 2021 Transportation Conference — a four day virtual conference showcasing the future direction and trends surrounding BC's transportation sector.
Adapting to a better normal
In a year like no other the transportation sector has been on the forefront of adapting to societal and economic changes resulting from the global COVID-19 pandemic. Our conference moves beyond COVID-19 to consider how the sector is evolving through innovation and collaboration to be more agile in the face of change and resilient under pressure.
Check out the full program by visiting transportationconference.ca
Organizer of Transportation Conference 2021: Recorded Content Access
Since 1976, the Association of Consulting Engineering Companies British Columbia (ACEC-BC) has been the voice of consulting engineering companies in BC. Our mandate is advancing the business interests of consulting engineering firms in BC by advocating for fair business practices and building awareness of the industry's contributions to society and innovative technical expertise.