Trash Wang Tour at the Rickshaw
Location
The Rickhshaw Theatre
254 East Hastings
Vancouver, British Columbia V6A 1P1
Canada
Description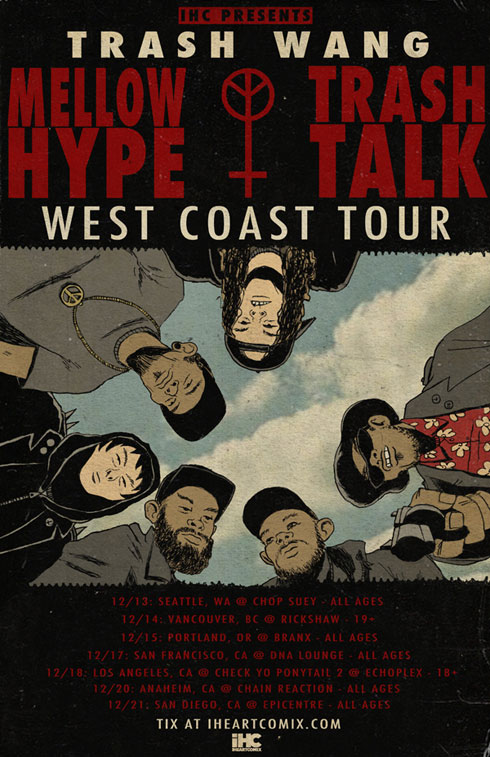 Join us Friday, December 14 at The RIckshaw Theatre for a special IHeartComix presentation for the Trash Wang Tour headlined by MellowHype and Trash Talk.

LA-based record label and legendary party throwers IHeartComix are bringing two OFWGKTA artists to Vancouver.
www.iheartcomix.com


MELLOWHYPE (OFWGKTA)
MellowHype is a lifestyle. A lifestyle in which they live by. Hodgy Beats and Left Brain use their talents to work together and make the dopest experimental hip-hop around California. What is MellowHype? Mellow is Left Brain in his "calm" when composing instrumentals. Hype is Hodgy Beats' mental emotions releasing over Odd Future Wolf Gang beats. Left Brain is Hodgy's producer and Hodgy Beats is Left Brains artist. These two young men are ahead of their game when it comes to real music. Have you heard "Bankrolls", "Claustroflowbic", or "Rolex"? The Beats are off the wall – sounding like a dream in the middle of a tornado and the lyrics are mind winding. The duo takes life day by day, dedicating their lives to music. Mellowhype will street sweep the game along with the rest of their crew, Odd Future.
www.twitter.com/WTFisMELLOWHYPE
TRASH TALK
Trash Talk is an American hardcore punk band hailing from Sacramento, California, formed in 2005. Trash Talk combines modern hardcore and thrash with the aggression of its descendents, creating a sound that is at once exciting, unrelenting and entirely fresh.
www.twitter.com/TRASH_TALK