Connect with the spirit of the land, the heart of the circle and the call in your soul.
About this event
It is the season of turning inwards and taking time to tend to the needs of our soul. This retreat offers a space where you can feel held and supported in delving into those needs, in clarifying your vision for addressing grief and trauma, and cultivating the inner resources to feel empowered. With hands-on practices, group processes, ceremony, and ritual you will be immersed in a sacred circle of women.
Trauma as Medicine is based on two primary philosophies: First, we have come to this planet to learn and all of our teachings are found in the heart of our experiences. Second, the world around us is an intelligent matrix of consciousness, which we are a part of, and when we cultivate our relationship with this life force we generate healing. These two philosophies require a paradigm shift in how we view ourselves and our world, one that stipulates, the answers we seek are found within ourselves.
Benefits of this retreat:
~Opening your heart to the present moment
~Generating self love
~Gaining a sense of connection and belonging
~Learning to be present in your body and trust yourself
~Understanding how to listen to intuition
~Experiencing the support and healing a circle generates
Practices used:
All practices and techniques are taken directly from my book Trauma as Medicine and from years of facilitating trauma focused workshops. They will include, but are not limited to, meditation, shamanic journey, fire ceremony, breathwork, self inquiry, journal writing and time alone in nature.
Time Frame:
Arrival between 4-5pm on Friday night, Closing circle at 11am Sunday morning
What is included:
Lodging at Rundles Mission Pigeon lake
Vegetarian food
2 suppers
1 lunch
2 breakfasts
Registration forms will be emailed upon payment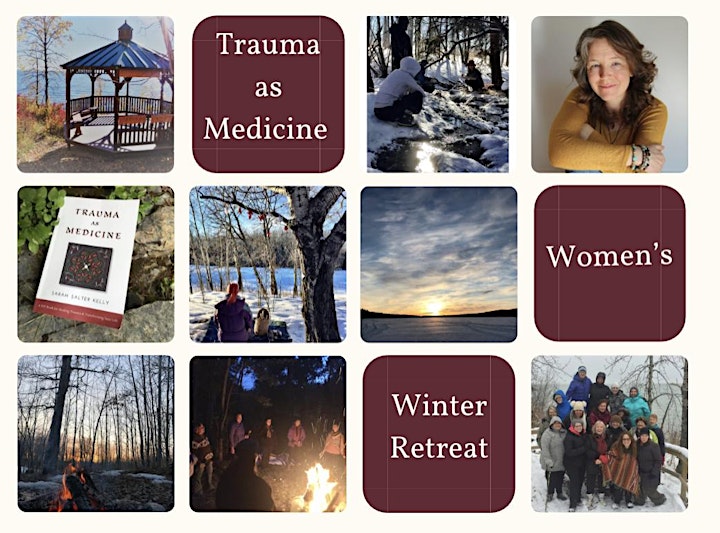 Organizer of Trauma as Medicine Women's Retreat
Our ability to feel powerful, confident and capable is linked to how we have resolved the deeply painful experiences in our lives. We create value and meaning through venturing into the depths of our pain, transcending fear and making ourselves available to change. My gifts lay in illuminating this source of conflict within, and transforming its bondage, through understanding, compassion and ceremony.
My training has led me to work with Healers in the Amazon and the high Andes of Peru on eight separate occasions, as well as with Elders in Canada and the U.S., pursuing shamanism, energy healing and personal growth techniques to compliment my skills. I am a Reiki Master Teacher, Alchemical Healer and Ceremonialist. I have been teaching healing programs and offering one on one spiritual healing since 2007 on my land near Pigeon Lake Alberta, or at other facilities around the province. Aside from energy healing I have also taken my STAR Level 1; strategies for trauma awareness and resilience, (United States institute for peace and justice building) as well as Peace Circle facilitation. 
If you have any questions, please do not hesitate to contact me.
Blessings and love,
Sarah Salter Kelly
White Raven Woman
More Information here. http://www.sarahsalterkelly.com/about-me.html