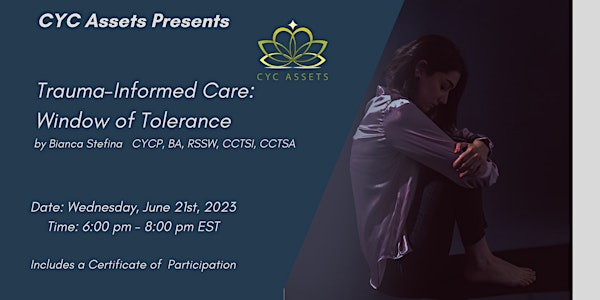 Trauma Informed Care: Window of Tolerance
Learn and Explore the Window of Tolerance in Trauma Informed Care.
Date and time
Wed, Jun 21, 2023 3:00 PM - 5:00 PM PDT
Refund Policy
Contact the organizer to request a refund.
Eventbrite's fee is nonrefundable.
About this event
Trauma Informed Care- How to work with our client's mind and body through the Window of Tolerance.
In this 2-hour beginner/ intermediate level training, participants will learn the signs and impact of trauma, complex trauma and toxic stress in a developing brain and nervous system. Participants will explore how to effectively work with trauma responses in their clients and help clients stay in their window of tolerance with effective, practical techniques they can begin to use immediately. This webinar is psychoeducation based on practical, somatic interventions to utilize with clients to feel confident in working with severe emotional regulation and give participants tools outside of "traditional talk therapy" interventions.
Learning Outcomes:
By participating in this webinar, participants will be able to:
1. Understand and identify the definition of acute, complex and developmental trauma.
2. Develop an awareness of the impact of trauma, toxic stress and adversity on the developing brain and nervous system.
3. Gain knowledge of the biochemical reactions that happen within the body that lead to mood, behaviour and emotion change.
4. Will comprehend the "Window of Tolerance" and how this affects our clients.
5. Gain practical, applicable and ready to use interventions for staying in the "Window of Tolerance" with their clients, leading by example.
6. Understand how your own stress response, the importance of self-regulation and effective interventions to foster emotional safety in yourself translates to client interactions.
Level: Beginner/Intermediate
Domain of Practice: Developmental Practice Methods
OUR PRESENTER: Bianca Stefina
Bianca is a full professional certified CYCP, psychotherapist registered with OCSWSSW and a Certified Clinical Trauma Specialist- specializing in trauma and addiction. Bianca has seven years of experience working with adults, youth and children in clinical, residential, education, youth justice and private practice settings.
Bianca owns a private practice specializing in trauma treatment in youth and individuals and has experience as part time faculty of the CYC program at St. Clair College. Bianca provides individual & group therapy/coaching and workplace consulting and trainings in relation to trauma informed care. Bianca prides herself in her affiliation with Arizona Trauma Institute and has been triple certified under the talented doctors and faculty of Trauma Institute International. Bianca is extremely passionate about educating individuals on the effects of toxic stress, trauma and adversity and empowering those who work with trauma to feel confident and secure when addressing complex behaviour and cases through the Salutogenic approach to care.
About the organizer
CYC Assets provides professional development to those who work with children, youth and families. We offer webinars to fill your toolbox with tips, strategies and knowledge to aid in your on-going PD, based upon Child and Youth Care Domains of Practice.