Description
In 2018 Trauma Informed Edmonton (TIE) initiated an environmental scan to provide an opportunity for service providers to specify their training needs and community members to voice their experiences with services. Both service providers and community members were clear that frontline staff need more trauma-informed training. These groups acknowledged that there are significant gaps in awareness, understanding and practical tools for working with clients who present trauma. In early March 2019 TIE offered Gathering 2019, a 3 days experiential trauma-informed training for front line workers that focused on trauma-informed practice and self care for clients and workers.
A second finding of the e-scan was that Trauma-informed care needs to be implemented at the organizational level. Staff shared the following:
"It is very difficult to implement trauma-informed care when the organization program is structured in a way that is not trauma-informed."
At the same time we heard from supervisors and managers' about their challenges:
"Helping staff to cope with compassion fatigue is…an area where I'd love to see more training."
In response to these identified gaps, Trauma Informed Edmonton is offering this event to invite managers and supervisors to deepen their understanding of trauma-informed teams and organizations.
Join us for Trauma-Informed Leadership Series 2019 and learn how to implement trauma-informed care approach at the organizational level.
This series features 3 (three) events (detailed schedule will be emailed closer to the date of event):
September 25th - Workshop: Essentials in Organizational Health in Trauma-Exposed Environments for Supervisors and Managers by Diana Tikasz (Tend Academy, more details below)
October 29th - Keynote speech by Senator Patti LaBoucane-Benson
October 29th - Workshop: Indigenizing Trauma-Informed Leadership by Dr. Karlee Fellner (the University of Calgary, more details below)
*Breakfast, lunch, and afternoon refreshments included on both days.
Who is this event for?
Leadership Series 2019 is for supervisors and managers in service provider organizations who are interested in learning about implementing trauma-informed approach at the organizational level and exploring the approach through a decolonized lens.
Agenda:
September 25, 2019
Workshop 8:30 am - 4:00 pm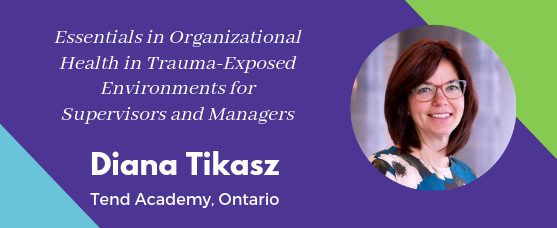 This course will support managers and supervisors to be effective leaders and to build strong, resilient, and productive teams by:
- Introducing and applying the Organizational Health Model,
- Exploring the vital role of supervisors and managers in Organizational Health,
- Understanding the unique properties of trauma-exposed work and the critical need to enhance individual and team resiliency,
- Applying the Complex Stress Model of Workplace Stress, which includes both the system-based stresses and traumatic stresses (vicarious trauma and direct trauma)
- Evaluating your team's current risk and resiliency
- Defining the ecology of your workplace and prioritizing your current needs.
Speaker Bio:
Diana Tikasz, MSW, RSW (Tend Academy)
Diana Tikasz has worked in the teaching and health care sector for the past 29 years. Her helping work began as an early childhood educator, nurturing children and their families to reach their fullest potential. This work developed into a desire to do trauma-focused work.
Over the course of her career she has worked in emergency department crisis teams, coordinated hospital-based sexual assault/domestic violence treatment programs, which involved assisting individuals experiencing a current crisis, counselling those who have been traumatized by violence, and teaching a variety of other professionals how to do this work effectively while staying healthy themselves
She sits on numerous community and provincial committees focused on violence against women and children. She has spearheaded numerous educational initiatives such as a rape drug campaign, a dating violence awareness video/manual, unfounded sexual assault case reviews and frequently consults in hospital-based domestic violence research studies.
Currently, Diana is working in a new position solely focused on supporting staff and organizational resilience in a high-stress trauma-exposed organization. The goal is to find ways to shift how we do the work in order to remain well as we provide the best care possible and still have enough energy at the end of the day for our families.
October 29, 2019
Breakfast and Keynote 8:30 am - 9:30 am
Event day October 29th will feature a keynote speech by Senator Patti LaBoucane-Benson who will address the importance of implementing trauma-informed leadership in organizations.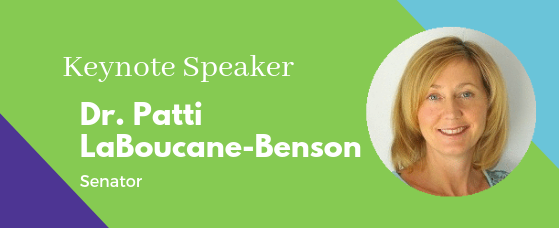 Speaker Bio:
Senator Patti LaBoucane-Benson
Patti LaBoucane-Benson has dedicated her life to helping Indigenous families. A proud Métis, she spent most of her long career with the Native Counselling Services of Alberta, currently working as Director of Research, Training, and Communication. She has a Ph.D in Human Ecology, with a focus on Indigenous family resilience.
Over the past 15 years, Dr. LaBoucane-Benson has been the director, executive producer, and principal investigator for BearPaw Research, Training, and Communication, specializing in community-based, applied research. BearPaw's main goal is to increase Indigenous peoples' awareness of their legal rights and responsibilities, thus overcoming hopelessness and powerlessness experienced when facing the justice system.
Dr. LaBoucane-Benson's success in bridging the work of community-based historic trauma healing programs and the needs of program funders, and in creating reports that are recognizable, useful, and accurate, contributed to her appointment as the current co-chair on the board of Trauma Informed Edmonton, and the Lieutenant Governor's Circle on Mental Health and Addiction in the past.
October 29, 2019
Workshop 10:00 am - 4:00 pm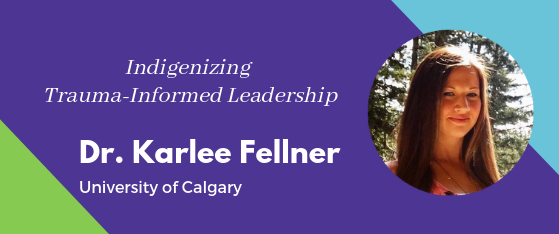 This workshop explores trauma-informed leadership through Indigenous perspectives. Participants will learn about:
- impact of complex, collective and vicarious trauma in communities and
- how above can affect frontline workers, service providers, and organizations who serve these communities.
Participants will also learn how leaders can support their staff by recognizing and acknowledging vicarious trauma and burn out and nurturing organizational wellness through holistic approaches that draw upon Indigenous wisdom.
This workshop will further explore how organizational wellness may be further enriched through resotr(y)ing deficit narratives of trauma by focusing on Indigenous counter-narratives of survivance, resilience, resistance, and resurgence that move individuals, organizations, and communities toward wellness, balance, and harmony. Participants will learn how they may foster an environment of wellness to support their staff (and organizations as a whole) in trauma-informed work by applying a decolonizing and Indigenizing framework that incorporates love, good relationships, Indigenous knowledge, living a good life, responsibility, identity and belonging, and land.
Speaker Bio:
Dr. Karlee Fellner (University of Calgary)
Dr. Karlee Fellner is Cree/Métis from central Alberta. She is a grateful visitor on the traditional territories of the Siksika, Piikani, and Kainai Blackfoot Nations, the T'suu Tina, and the Stoney Nakoda peoples. In 2007, Karlee completed her B.A. with Cooperative Work Experience in Psychology at the University of Alberta. She then went on to receive her M.Ed. in Counselling Psychology from the University of Alberta in 2009, and Ph.D. in Counselling Psychology from the University of British Columbia in 2016. Karlee joined the Werklund School of Education as an Assistant Professor in Indigenous Education Counselling Psychology at the University of Calgary in 2013.
Karlee has been working with diverse clients in counselling and assessment since 2007, prior to which she was working in inpatient psychiatric facilities. She has independently designed and taught courses in counselling and psychology at numerous universities and a private First Nations college, and has published book chapters and research articles in the fields of psychology, health, and social work. Karlee is also an instructor in the Aboriginal Focusing-Oriented Therapy & Complex Trauma certificate program offered through the Justice Institute of British Columbia.
Registration/Cost:
Early Bird Rate (ends August 14): $200
Regular: $250
Registration includes:
- admission to 2 (two) workshops (Sep 25th and Oct 29th)
- Keynote speech (Oct 29th),
- required course materials,
- breakfast, lunch, and afternoon refreshments on both days.
Optional Material:
Interested attendees also have an option to purchase "Building Resilient Teams: Facilitating Workplace Wellness & Organizational Health in Trauma-Exposed Environments", a recommended workbook by Tend Academy designed as a practical, realistic and effective approach to building team resiliency and cohesion through a sequence of safe and respectful guided discussions, at a discounted rate of $48.
REGISTRATION DEADLINE: Friday, August 30th
Limited spaces available!


FAQs
What's the refund policy?
Unfortunately, registration is not refundable. However, you may transfer your ticket to another attendee to take your seat; please inform Rie at rie.nakai@reachedmonton.ca to arrange this.

Do I have to bring my printed ticket to the event?
You do not have to bring your printed ticket to the event.
How can I contact the organizer with any questions?
You can reach us at rie.nakai@reachedmonton.ca
Click here to follow/like us on Facebook Trauma Informed Edmonton Page.