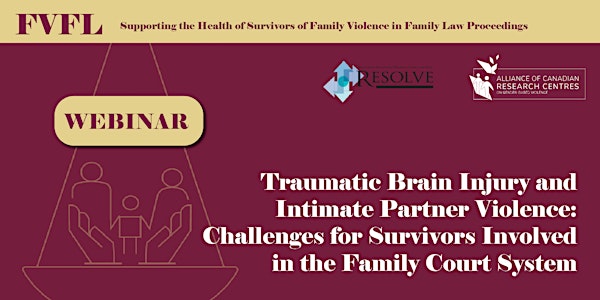 Traumatic Brain Injury and IPV: Challenges for Survivors in Family Court
Traumatic Brain Injury and Intimate Partner Violence: Challenges for Survivors Involved in the Family Court System
Date and time
Mon, Apr 3, 2023 11:00 AM - 12:30 PM PDT
About this event
1 hour 30 minutes

Mobile eTicket
Event Details
Survivors of intimate partner violence (IPV) commonly sustain physical injuries to the head, neck, and face. As a result of increased trauma to these areas, survivors are at a greater risk of experiencing brain injuries; specifically traumatic brain injury (TBI), which is caused by external force to the head, neck, or face, and hypoxic-ischemic brain injury (HIBI), which is caused by non-fatal strangulation. These injuries cause damage to the brain and disrupt its normal functioning, resulting in a range of physical, emotional, and cognitive difficulties. Because of these difficulties, survivors impacted by brain injuries can face challenges when accessing, navigating, and participating in the family court system. For instance, survivors suffering from unrecognized or undiagnosed brain injuries can exhibit behaviors in family court that undermine their credibility. If a brain injury is known, it can also be weaponized against survivors during custody and access proceedings to paint them as an unfit parent. This webinar focuses on the intersection of IPV and brain injury, and the subsequent challenges these injuries present for survivors in the family court system including issues surrounding participation in the court process, establishing causal evidence of IPV-related brain injury, and the absence of trauma-informed legal practices.
Speakers
Ashley Stewart is a registered psychiatric nurse and has been practicing forensic nursing for 15 years. She is the current coordinator of the forensic nurse examiner program at Health Sciences which sees all ages of intimate partner violence and sexual assault. Ashley teaches at Duquesne University in the Master of Forensic Nursing Program and is active on the Board of Directors for the International Association of Forensic Nurses.
Dr. Michael Ellis is an Assistant Professor in the Department of Surgery, Section of Neurosurgery at the University of Manitoba. He is the Medical Director of the Pan Am Concussion Program, a clinical program that provides multi-disciplinary care of patients with concussion and other forms of traumatic brain injuries throughout Manitoba and central Nunavut. His clinical and research interests involve the use of telemedicine to deliver care to underserved rural and remote communities and the development of clinical programs and systems of care that serve patients with intimate partner violence traumatic brain injuries.
About RESOLVE
RESOLVE is a prairie-based research network that co-ordinates and supports research aimed at ending violence, especially violence involving girls and women. RESOLVE is committed to supporting research that leads to positive results. RESOLVE's work seeks to uncover the causes of violence and map out effective strategies to prevent and alleviate that violence. With offices in Alberta, Manitoba and Saskatchewan, RESOLVE creates partnerships among service agencies, government departments and universities across the prairie provinces.
Visit the RESOLVE Network website to learn more.
About the Supporting the Health of Survivors of Family Violence in Family Law Proceedings Project
The project, funded by the Public Health Agency of Canada, supports the establishment of five regional Communities of Practice through the Alliance of Research Centres on Gender-based Violence. These Communities of Practice comprised of survivors of family violence, and representatives from the gender-based violence, health, and family law sectors will work together to:
Enhance training opportunities for GBV specialists and Family law specialists to support trauma-informed practice.
Identify strategies for improved communication and awareness across sectors to support family violence survivors as they engage with the family law sector.
Visit the Alliance of Canadian Research Centres on Gender-Based Violence website to learn more about the project.