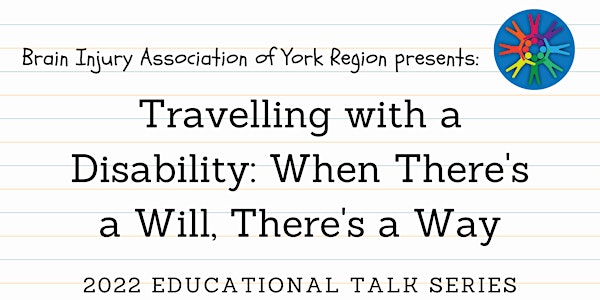 Travelling with a Disability - 2022 BIAYR Educational Talks Series
An educational talk discussing travelling with a brain injury or disability
About this event
Brain Injury Association of York Region is pleased to present the next 2022 Educational Talk, Travelling with a Disability: When There's a Will, There's a Way hosted by Joanne Smith, Certified Nutrition Practitioner at Neurocore Physiotherapy.
In this presentation, you will learn tips and strategies to help plan a stress-free vacation with a disability.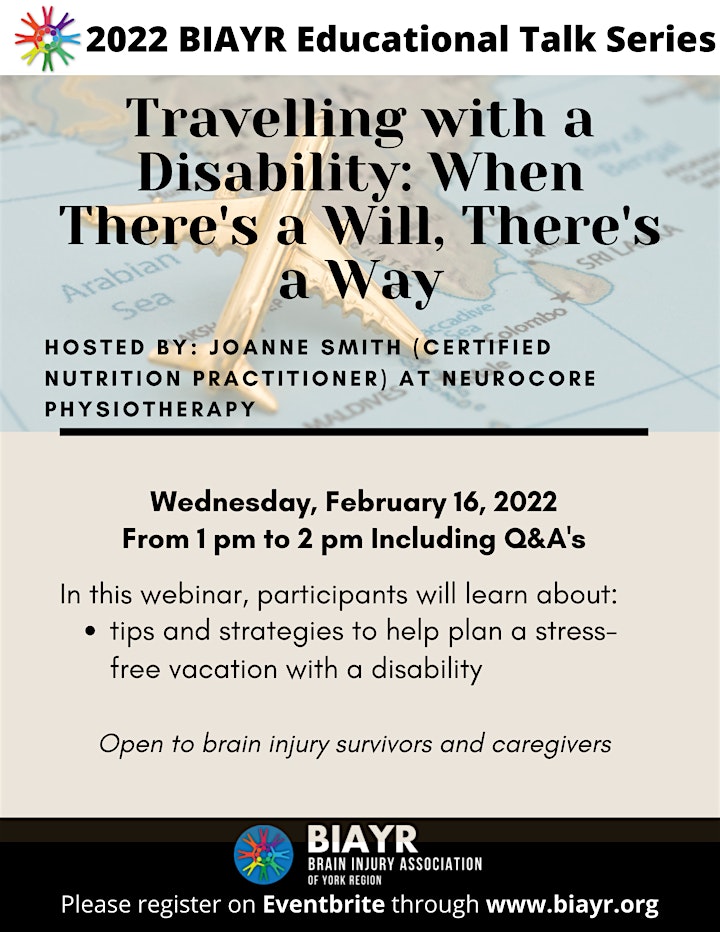 Joanne Smith, Certified Nutrition Practitioner:
Joanne Smith is a Certified Nutrition Practitioner who practices at NeuroCore Physiotherapy & Pilates Centre. Her nutrition services focus on individuals who have sustained a traumatic injury with specialization in neurological conditions such as spinal cord injuries (SCI) and brain injuries, multiple sclerosis and cerebral palsy. Joanne co-authored Eat Well Live Well with Spinal Cord Injury & Other Neurological Conditions, the first nutrition book dedicated to addressing the unique needs of people with SCI. She is also a regular nutrition columnist for New Mobility and Community magazines in Canada and the USA, as well she teaches nutrition classes to individuals who are deaf/blind at The Canadian Helen Keller Centre.