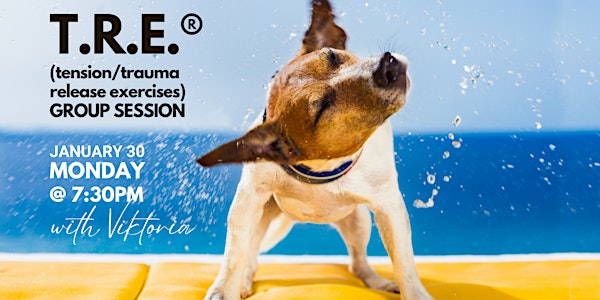 T.R.E.® (Tension /Trauma Release Exercises) Class
Join me to shake & shimmy all that negative energy you have been carrying that is known to you and unknown to you.
When and where
Location
Coloured Soul Yoga & Wellness. 2 Willingdon Boulevard #2nd Floor Toronto, ON M8X 2H2 Canada
Refund Policy
Contact the organizer to request a refund.
Eventbrite's fee is nonrefundable.
About this event
Your are Invited to SHAKE, SHIMMY, & BREATHE AWAY all that bad energy & stress you have taken on daily, weekly, over time. Similar to taking a shower to wash away the daily grime.
Join us and RELEASE Body Tension/Trauma, RELAX Your Mind, and RECONNECT to your Heart. So you can live in a healthy state of balance and JOY!
TRE® created by Dr. Berceli, is an innovative and therapeutic restorative body care and maintenance modality. Encouraging the body to release deep muscular patterns of stress, tension, and trauma. Done through a series of exercises that safety activate your intuitive shaking/vibrating body release mechanism.
Helping you in resetting and re-regulating your nervous system in a safe space. Allowing the body to return to a state of balance.
Tension & Trauma Releasing Exercises (or TRE®) is based on the fundamental idea, backed by research, that stress, tension, and trauma is both psychological and physical. TRE®'s reflexive muscle vibrations generally feel pleasant and soothing.
After doing TRE®, many people report feelings of peace and well-being. TRE® has helped thousands of people globally.
Benefits Include:
Less Worry & Anxiety
Reduces Symptoms of PTSD
More Energy & Endurance
Improved Marital Relationships
Less Workplace Stress
Better Sleep
Less Relationship Conflict
Reduced Muscle & Back Pain
Increased Flexibility
Greater Emotional Resiliency
Decreases Symptoms of Vicarious Trauma
Healing of Old Injuries
Lessened Anxiety surrounding Serious Illness
Relief from Chronic Medical Conditions
This therapeutic muscle tremoring/vibrating evoked by the TRE® exercise process is a natural, internal, neuro-physiological response of the body to reduce its own stress and restore a sense of well-being.
TRE® is a body-based (somatic) process that can help in discharging tension from the body, which often does not require "revisiting the story". (ie: verbally describing or talking about the traumatic experience). Also, a great compliment to other therapeutic modalities.
InPerson Class size is 4 people. Save your spot!
💥ITS YOUR FIRST TIME? Then you receive a FREE class with your first group class purchase (2 for 1, as they say).
WHAT TO BRING? Please bring a YOGA MAT and BLANKET.
PREFER a private T.R.E.® session ($150 for 1 hr or $250 for 2hr), please inquire: viktoria@playfulloving.com
LOCATION: Coloured Soul Yoga Studio, 2 Willingdon Blvd (Bloor St W and Royal York subway)
WHAT PEOPLE ARE SAYING:
"I've been to Viktoria 's T.R.E.® group session and her unique way of offering it brought me to a deeper connection with my emotions. 💙 I felt so relaxed and rejuvenated after letting my body do It's thing and shake off any subconscious energetical or body blocages. 🙏🏻✨ I strongly recommend 🍂 it's autumn and the season of letting go and shedding is here." ~Bee
-------------------------------
"TRE is an amazing experience & Viktoria is a wonderful guide🙏. Her kindness & respect for others is reflected in her teaching style & she is always attentive to the participants. I am very grateful for the experience & look forward to continuing TRE."
Start building rapport right away by responding to the customer and your response will be sent to them automatically! ~I.S.
-------------------------------
Look forward to seeing you!