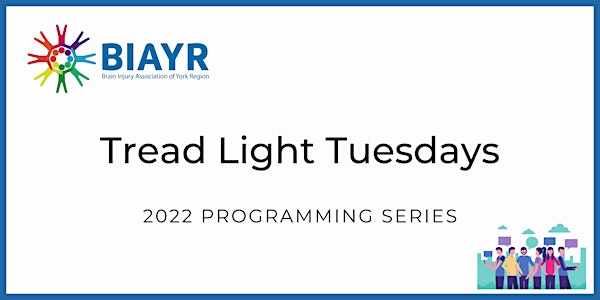 Tread Light Tuesdays - 2022 BIAYR Programming Series
Wellness walking program for brain injury survivors and caregivers.
When and where
Location
Phyllis Rawlinson Park 11715 Leslie St Richmond Hill, ON L4E 3R7 Canada
About this event
Prolonged levels of stress, unbalanced by active recovery, result in elevation of cortisol stress-related hormones and proinflammatory physiologic processes that lead to progressive physical and psychological fatigue and reduced individual resilience (Burnout and potential illness).
A decrease in resilience has been shown to be a risk factor for developing mental health issues and physical illness. Increased stress needs to be matched with increased levels of recovery.
Join Colleen for Tread Light Tuesdays to support your resources for recovery from stress activities.
Tread Light Tuesdays will allow you to learn routines of mindfulness in nature. Various strategies for wellness and movement, breathing and mindfulness will be enjoyed in the healing benefits of a natural environment. Learn systems for interrupting harsh patterns of thinking and for balancing day-to-day stressors with feel-good activity and fun.
Expected gains:
Strategies for regulating the emotional response to stress (potential for lowered anxiety, fear, and anger)
Understanding how thoughts and emotions are connected and how you can control both to maintain feelings of calm and wellness
Interruption of thoughts that distances you from where, who, and what you want to be
Neurological flexibility to shift perceptions and negative responses
Exploration and adoption of healing movement and meditation options
Information for wellness and resiliency
Fun 😊
Duration: 2 hours
Location:
Phyllis Rawlinson Park
11715 Leslie Street
Richmond Hill, ON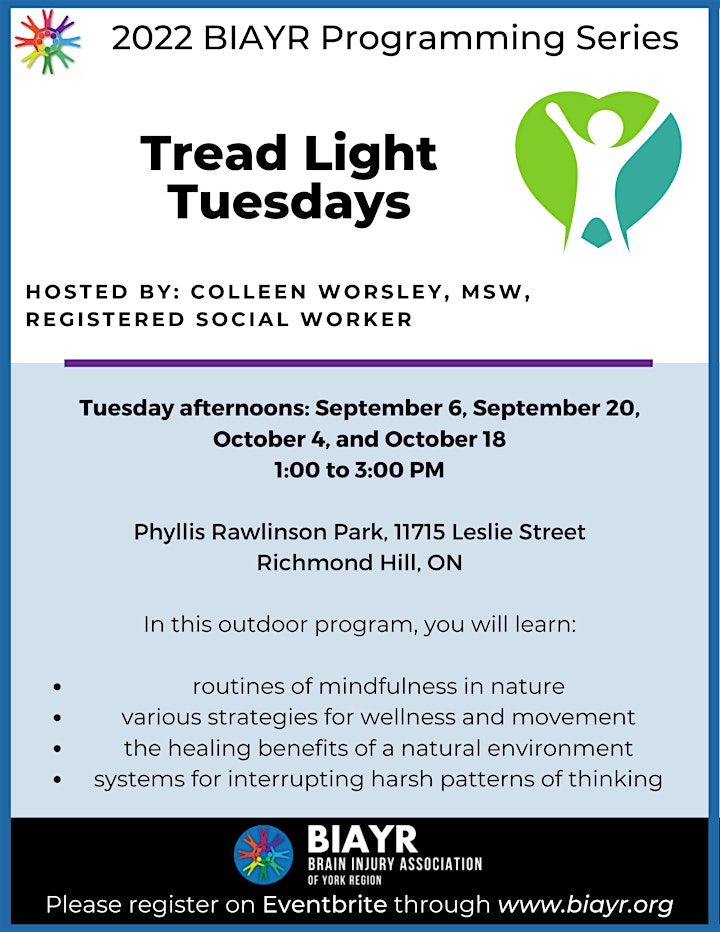 About Colleen Worsley, MSW, Registered Social Worker:
Colleen has more than 20 years of experience in the rehabilitation healthcare field providing direct care and management support in both clinical and community settings for individuals with traumatic brain injury, or concussion, and for those managing and recovering from prolonged stress and trauma. Colleen combines her interest in neuropsychology with her studies in social work, cognitive science, and wellness building, to identify client strengths and challenges in the development of individualized and comprehensive rehabilitation and recovery programs.