Launch of 'Treasured Islands with Generations of Muskoka Memories', a compilation of island inspired writings from the cottagers of Muskoka.
About this event
Islands and islanders have always been fascinating: from ancient mythology, where Caliban railed at the gods from Setebos, to my childhood summers on west Tobin Island, dealing with the joys and the vicissitudes of the three day blows and six foot waves that made we 'Moses Pointers' into the hardened pioneering stock we became!
Within these pages you will find island inspired stories, poems, histories, mysteries and romances from the cottagers of Muskoka.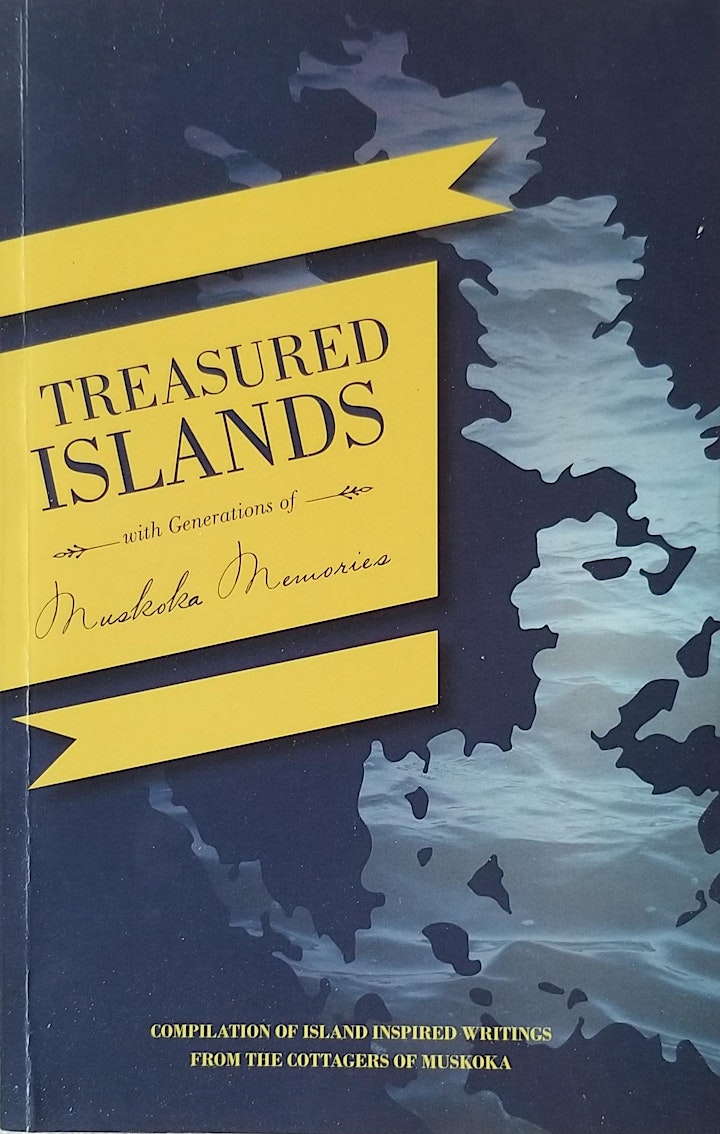 Speaker Bios:
John R. Moses had the good fortune to have great grandparents, on both parent's sides, who cottaged in the Indian River by the 'canoe cut' at Port Carling and on the west side of Tobin Island by 'Moses Point'. A love of flying turned into thousands of hours of northern wilderness commercial bush piloting and mineral prospecting ventures in the Canadian Shield which helps to explains some of the unusual details to be found in his short story.
Carol Moore-Ede had her first book published as author and photographer when she was 25, Canadian Architecture 1960/70, which won the Canada Book of the Year Award. She has had a notable career as a Director, Writer and Executive Producer of television and film for CBC-TV; as well as for BBC, PBS, Discovery-Health and NHK Japan, and other North American and international broadcasters. Her work has included Drama, Arts Documentaries, Performance, Opera, Current Affairs and Medical Science. Her photography has been published in numerous books and magazines worldwide including Time Magazine, Abitare, Canadian Interiors, and Cottage Life. Always interested in history, Moore-Ede produced and directed Images of Canada; a 5-episode documentary on the social & cultural history of Canada. In 2008, she founded the Cabbagetown Regent Park Museum, which she still chairs. It has won 2 Toronto Heritage Awards. In addition, she is preserving the history of the family island in Muskoka, which has seen seven generations within its shores since the late 1870s. She purchased her own heritage home in 1973 where she resides with her husband, Jim Keffer, and their dog Diva.
Alan Manchee is a fourth generation Muskoka cottager on both sides of his family. His maternal grandfather, Joseph McCarthy Vaughan, bought Sweden Point on the west side of Tobin Island in 1920, and renamed it 'Linger Longer'. Alan had a 32 year career in communications with Ontario Hydro/Hydro One, and ran Hydro One's media relations function for many years until his retirement in 2013. He writes children's stories, and still gets calls from cottagers during outages asking when power will be restored.
Organizer of 'Treasured Islands - with Generations of Muskoka Memories' Book Launch
Muskoka Chautauqua is a community for the curious and the creative. Springing from a tradition that started 100 years ago, when the village of Windermere attracted North America's leading thinkers to its shores, Muskoka Chautauqua is one of the longest-running and more iconic cultural institutions in the region. Muskoka Chautauqua is a not-for-profit organization fostering arts and culture, culminating in a summer festival in the historic village of Windermere.