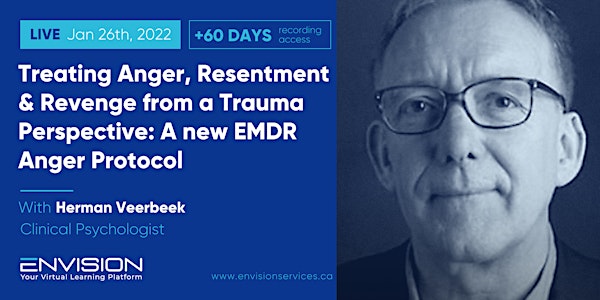 Treating Anger, Resentment and Revenge From A Trauma Perspective with EMDR
TREATING ANGER, RESENTMENT AND REVENGE FROM A TRAUMA PERSPECTIVE: A NEW EMDR ANGER PROTOCOL.
Refund Policy
Contact the organizer to request a refund.
Eventbrite's fee is nonrefundable.
About this event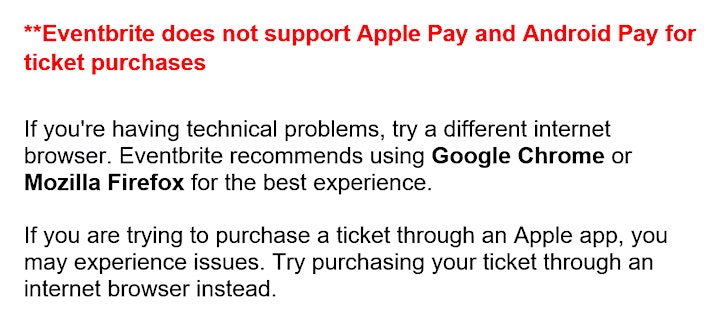 TREATING ANGER, RESENTMENT AND REVENGE FROM A TRAUMA PERSPECTIVE:
A NEW EMDR ANGER PROTOCOL.
Presenter: Herman Veerbeek, Clinical Psychologist & EMDR Consultant
Target audience: EMDR Therapists, Psychologists, Social Workers, MFTs, Counselors (Basic EMDR Training is required)
Course content level: Beginner & Intermediate level
___________________________________________________________________________________
Continuing Education Credit Info:
6 CCPA CEs
This workshop is approved for 6 CE hours by EMDRIA
*If participants chose to only watch the recorded version rather than attending live, the number of EMDRIA CEs will vary as time spent in practicum will be deducted*
___________________________________________________________________________________
Live Online via Zoom:
8 am - 3:30 pm Pacific Time Canada/USA
9 am - 4:30 pm Mountain Time Canada/USA
11 am - 6:30 pm Eastern Time Canada/USA
Can't Attend Live? No worries, you will have 60 days to watch the recording!
Workshop Description:
EMDR therapists practicing in health and forensic fields are frequently confronted with anger problems; some clients may suffer from suppressed, inaccessible anger, others may present with an intimidating, aggressive attitude. Invariably, the externalizing attitude of a client is seen as an annoying process-disturbing phenomenon that can severely block regular EMDR therapy, leaving everybody powerless and frustrated.
This workshop explores a new EMDR-protocol that takes anger as starting point in therapy, and sees it as an opportunity to heal, making use of (1) the Adaptive Information Processing model of Francine Shapiro – which encompasses a trauma perspective on anger, Bilateral Stimulation, and the concept of reciprocity.
Learning Objectives:
Discuss how to master when to use and how to apply the anger protocol
Analyze and identify anger-driven urges and aggressive, externalizing behavior from a trauma perspective
Indicate how Increasing awareness and recognizing your own fear and blocking views in helping aggressive clients and finding ways to overcome that.
Describe how to address the clients' aggression and externalization with EMDR therapy and use the expression of anger in healing from trauma
List strategies to work with clients with suppressed or explosive anger
Cite strategies to keep an optimal safety for therapist and client
Agenda If Joining Live:
9.00 Opening and inventory of dilemma's experienced by participants
9.30 Focus on therapists bodily reflexes being confronted by an angry man and experiencing what is needed if you are angry yourself.
9.45 The therapist and the anger taboo, theoretical foundations of the anger protocol, Therapeutic considerations
10.30 Questions from participants
10.45 Coffee break
11.00 Introduction first part of the protocol and demonstration
11.15 Role-playing in Break-out rooms
12.05 Discussion of the encountered dilemma's and pitfalls
12.30 Lunch
13:15 Short presentation of technical issues in applying BLS
13.30 Demonstration of 'The Brake', next part of the protocol
13:45 Footage of processing the anger
14.00 Demonstration of the preparation for the film and explanation of the main protocol
14.15 Role-playing in Break-out rooms; the main protocol
15:30 Break
15.45 Discussion of the encountered dilemma's, pitfalls and safety issues.
16.15 Footage of processing anger with a furious women and last questions addressed
16.30 Conclusion
Your Presenter, Herman Veerbeek:
Herman Veerbeek is Clinical Psychologist and EMDR Consultant, from the Netherlands. He has treated patients with long sentences, severe personality disorders and PTSD-symptoms in the Scheveningen prison for 13 years and currently treats patients at the outpatient Forensic Psychiatric Centre 'De Waag' in the Netherlands. He developed the EMDR Directed Anger Protocol, the Directed Anger Questionnaire and he specialises in trauma focused offender treatment. He presents workshops in the Netherlands, England, Germany, and webinars for Australia.
CE Information
There is no known conflict of interest for this program.
Envision has not received any commercial support for this program or its contents and will not receive any commercial support prior to or during this program.
Envision will disclose any potential conflicts at the beginning of the workshop.
To obtain more information please email Envision at registration@envisionservices.ca.
*If participants chose to only watch the recorded version rather than attending live, the number of CEs will vary as time spent in practicum will be deducted*
It is the participant's responsibility to check with their individual state boards/regulatory body to verify CE requirements for their license to practice.
Attendance is automatically tracked through your Zoom login. If you are not present for the entire duration of the live broadcast or if you are watching the Home Study/recorded version of this workshop, you will need to complete a quiz with a pass of at least 75%
EMDRIA - 6 CEs
1) EMDRIA has reviewed and approved the content of this workshop for 6 EMDRIA CEs. Although the focus of this presentation will not be on the use of EMDR strategies, it will focus on providing strategies to enhance your EMDR practice.
2) A separate EMDRIA only certificate will be awarded by Envision to those who qualify after course completion. This EMDRIA only certificate is for submission to EMDRIA. The other Continuing Education certificate is for submission to your licensing board at renewal.
3) Number of CEs may vary for those who watch only the recording.
Canadian Counselling & Psychotherapy Association
(CCPA)- Eligible for 6 CE hours
CCPA has reviewed and approved the content of this workshop for 6 CEs
(No extra cost for members)
CCPA document will be provided after the event.
Participants must have paid tuition fee, logged in and out each day, attended the entire webinar, and completed an evaluation to receive a certificate. Failure to log in or out will result in forfeiture of credit for the entire course. No exceptions will be made. Partial credit is not available. Certificates will be available following course completion.
Please Note: Licensing Boards change regulations often and while we attempt to stay abreast of their most recent changes, if you have questions or concerns about this course meeting your specific board's approval, we recommend you contact your board directly to obtain a ruling.
Disability Access - If you require ADA accommodations please contact our office 30 days or more before the event. We cannot ensure accommodations without adequate prior notification.
*IF YOU HAVE SPECIAL NEEDS, DISABILITY OR CONCERNS: Please contact Envision at registration@envisionservices.ca
*Refund policy
Refunds on purchased tickets are available up until 15 days before the date of the webinar (no refund after this date). Refunds will include the ticket price less a $50 processing fee for all refunds/price adjustments. *Prices subject to change. Refunds within 15 days of workshops will be in the form of a workshop credit (credits do not expire).
All grievances must be in writing to info@envisionservices.ca, and will be replied to within 5 - 10 business days.