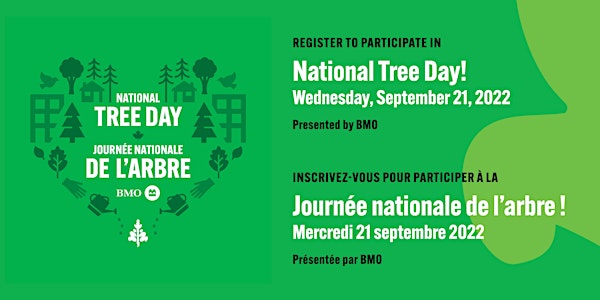 Tree Canada's National Tree Day Celebration - Ottawa
Tree Canada is excited to be celebrating National Tree Day, presented by BMO! Come out and celebrate with us by planting trees!
When and where
Location
Shirley's Brook Corridor 349 Maxwell Bridge Road Ottawa, ON K2K 1X7 Canada
About this event
The National Tree Day Celebration event in Ottawa, ON has been postponed. We will contact everyone registered to share the new date and time as soon as it is confirmed. | L'événement de la Journée nationale de l'arbre à Ottawa, On. a été reporté. Nous contacterons toutes les personnes inscrites pour leur communiquer la nouvelle date et l'heure dès qu'elles seront confirmées.
Join us on National Tree Day to celebrate the many benefits that trees provide - clean air, cooler cities, wildlife habitat and connection with nature. This year, National Tree Day is on Wednesday, September 21, 2022, and we are celebrating from coast to coast in cities across Canada.
Learn how to plant and care for urban trees so they provide benefits for years to come. Tree Canada experts and volunteers will be there to provide support and answer your tree questions.
Our Ottawa event will happen at Shirley's Brook Corridor to plant trees and celebrate the benefits that they provide us.
Exact Meeting Location:
Click here for the exact meeting location.
Parking:
Street parking is available on Windance Crescent and Pendra Way.
Before Arriving
All participants are required to complete a Self-Screening Assessment
This short review of your health ensures you are fit to participate in a community event, and it is meant to keep you, your family, other participants, and staff safe. If you are ill or experiencing any of the symptoms of COVID-19, please do not attend and instead notify your event coordinator.
What to Wear and Bring:
Please wear sturdy, closed-toe shoes with long pants and dress appropriately for the weather. This rain or shine event will still happen if there are a few showers in the forecast.
We will provide you with the necessary tools to plant the trees (i.e., shovels and gloves), and, as a token of our appreciation, each volunteer will get to keep their planting gloves! Finally, light refreshments will be provided, however, we encourage you to bring your own water.
What to Expect at the Event:
Upon arrival, please check in with the coordinator of your event
Wearing a mask is recommended
As much as possible, please ensure you are practicing physical distancing
Please use hand sanitizer before touching any tools. Clean hands are one of the best ways to prevent the spread of COVID-19
Staff will be present to provide tools, materials, and plants
Please only use the tools that have been assigned to you. Before leaving, please return tools and containers to staff.
Registration is free and open until Wednesday, September 14th.
We look forward to celebrating with you!
--
Arbres Canada a hâte de célébrer la Journée nationale de l'arbre présentée par BMO! Venez célébrer avec nous en plantant des arbres !
Joignez-vous à nous à l'occasion de la Journée nationale de l'arbre pour souligner les nombreux bienfaits des arbres : de l'air pur, des villes plus fraîches, un habitat pour la faune et un lien avec la nature. Cette année, la Journée nationale de l'arbre aura lieu le mercredi 21 septembre 2022, et nous organisons des activités dans des villes d'un océan à l'autre.
Apprenez comment planter des arbres urbains et en prendre soin pour qu'ils apportent des bienfaits pour de nombreuses années à venir. Des spécialistes et des bénévoles d'Arbres Canada seront là pour vous aider et répondre à vos questions sur les arbres.
Notre activité à Ottawa aura lieu au Shirley's Brook Corridor. Nous planterons des arbres et nous exprimerons notre gratitude envers les bienfaits qu'ils nous apportent.
Lieu de rendez-vous exact :
Cliquez ici pour le lieu de rencontre exact.
Stationnement :
Le stationnement est disponible sur Windance Crescent et le Chemin Pendra.
Avant votre arrivée :
Tous les participants doivent compléter une évaluation d'auto-dépistage.
Cette courte revue de votre santé vous permettra de confirmer si vous devriez participer au projet communautaire et a comme objectif d'assurer votre sécurité ainsi que celle de votre famille, des autres participants et du personnel. Si vous êtes malade ou si vous avez des symptômes de la COVID-19, s'il-vous-plaît n'assistez pas à l'évènement et veuillez en aviser le coordinateur de l'événement.
Ce que vous devez porter et apporter :
Portez des chaussures solides et fermées, un pantalon et une tenue adaptée au temps. La plantation sera maintenue même en cas de prévision d'averses légères.
Nous fournirons les outils nécessaires pour planter les arbres (pelles et gants). Pour vous remercier de votre participation, chaque bénévole pourra garder sa paire de gants! Enfin, de légers rafraîchissements seront servis, mais nous vous invitons à apporter votre propre bouteille d'eau si possible.
À quoi s'attendre durant l'évènement :
À votre arrivée, veuillez-vous inscrire avec le coordinateur de l'événement.
Le port du masque est recommandé.
S'il-vous-plaît vous assurer que vous respectez la distanciation physique autant que possible.
S'il-vous-plaît utiliser du gel antiseptique avant de toucher les outils. Le lavage des mains est un des meilleurs moyens de prévenir la propagation de la COVID-19.
Des employés seront présents pour vous fournir des outils, le matériel et les plantes.
S'il-vous-plaît utiliser seulement les outils qui vous ont été assignés. Avant de partir, veuillez rapporter vos outils et vos contenants vides aux employés assignés au nettoyage.
L'inscription est gratuite et sera possible jusqu'au mercredi 14 septembre.
Au plaisir de vous y voir!