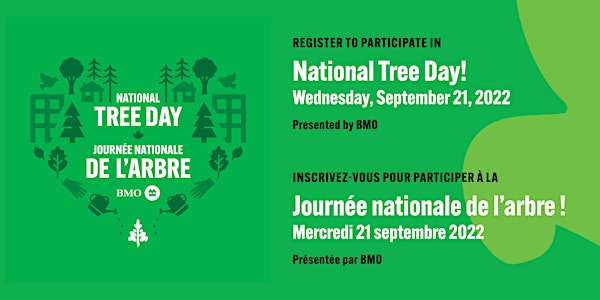 Tree Canada's National Tree Day Celebration - Saint John
Tree Canada is excited to be celebrating National Tree Day, presented by BMO! Come out and celebrate with us by planting trees!
When and where
Location
Glen Falls 83 Rayland Street Saint John, NB E2H 1Y8 Canada
About this event
Join us on National Tree Day to celebrate the many benefits that trees provide - clean air, cooler cities, wildlife habitat and connection with nature. This year, National Tree Day is on Wednesday, September 21, 2022, and we are celebrating from coast to coast in cities across Canada.
Learn how to plant and care for urban trees so they provide benefits for years to come. Tree Canada experts and volunteers will be there to provide support and answer your tree questions.
Our Saint John event will happen at Glen Falls to plant trees and celebrate the benefits that they provide us.
Exact Meeting Location:
Click here for the exact meeting location.
Parking:
Street parking is available on Todd St. and Rayland St.
What to Wear and Bring:
Please wear sturdy, closed-toe shoes with long pants and dress appropriately for the weather. This rain or shine event will still happen if there are a few showers in the forecast.
We will provide you with the necessary tools to plant the trees (i.e., shovels and gloves), and, as a token of our appreciation, each volunteer will get to keep their planting gloves! Finally, light refreshments will be provided, however, we encourage you to bring your own water.
Registration is free and open until Friday, September 16th.
We look forward to celebrating with you!
--
Arbres Canada a hâte de célébrer la Journée nationale de l'arbre présentée par BMO! Venez célébrer avec nous en plantant des arbres !
Joignez-vous à nous à l'occasion de la Journée nationale de l'arbre pour souligner les nombreux bienfaits des arbres : de l'air pur, des villes plus fraîches, un habitat pour la faune et un lien avec la nature. Cette année, la Journée nationale de l'arbre aura lieu le mercredi 21 septembre 2022, et nous organisons des activités dans des villes d'un océan à l'autre.
Apprenez comment planter des arbres urbains et en prendre soin pour qu'ils apportent des bienfaits pour de nombreuses années à venir. Des spécialistes et des bénévoles d'Arbres Canada seront là pour vous aider et répondre à vos questions sur les arbres.
Notre activité à Saint John aura lieu au Glen Falls. Nous planterons des arbres et nous exprimerons notre gratitude envers les bienfaits qu'ils nous apportent.
Lieu de rendez-vous exact :
Cliquez ici pour le lieu de rencontre exact.
Stationnement :
Le parking est disponible sur la Rue Todd et la Rue Rayland.
Ce que vous devez porter et apporter :
Portez des chaussures solides et fermées, un pantalon et une tenue adaptée au temps. La plantation sera maintenue même en cas de prévision d'averses légères.
Nous fournirons les outils nécessaires pour planter les arbres (pelles et gants). Pour vous remercier de votre participation, chaque bénévole pourra garder sa paire de gants! Enfin, de légers rafraîchissements seront servis, mais nous vous invitons à apporter votre propre bouteille d'eau si possible.
L'inscription est gratuite et sera possible jusqu'au vendredi16 septembre.
Au plaisir de vous y voir!