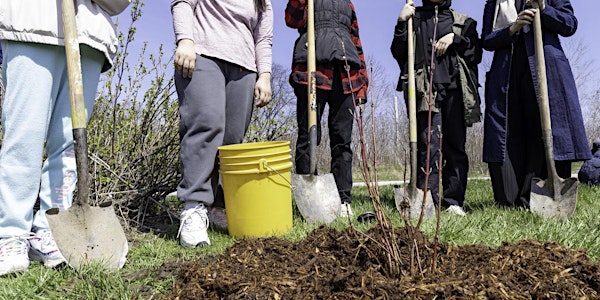 Tree planting with NDG // Plantation d'arbres grâce au programme NDG
Explore Downsview Park through a free nature program. Explorez le Parc Downsview dans le cadre d'un programme nature gratuit.
When and where
Location
Discovery Centre at Downsview Park 70 Canuck Avenue Back door (near greenhouses) Toronto, ON M3K 2C5 Canada
About this event
Tree planting with Nikibii Dawadinna Giigwag Indigenous youth program
The community is invited to join Nikibii Dawadinna Giigwag (Anishinaabemowin for "flooded valley healing"), a program for Indigenous youth offering employment, mentorship, and pathways to postsecondary education at the University of Toronto Faculty of Architecture, Landscape and Design. The program provides hands-on ecological learning opportunities to address a growing intergenerational gap in traditional environmental knowledge.
We will be hosting two planting times
Session 1: 10:30 AM - Noon (arrival 10:15 AM)
Session 2: Noon - 1:30 PM (arrival 11:45 AM)
Please only choose one time slot for your participation. Please arrive on time in order to view the planting demonstration.
Participants under the age of 16 must be accompanied by an adult.
Pets are not permitted at this program. Service animals are always welcome.
Please note that this session will be held only in English.
By clicking "Register", I acknowledge that I have read through the Parc Downsview Park Inc. ("PDP") Terms and Conditions, accept the PDP Privacy Notice and agree to PDP's use of my information in relation to this Program.
Downsview Park has and will continue to follow all public guidelines related to COVID-19. The health and safety of our staff and participants is our top priority. Please note that as guidelines change, we may need to adapt our programming. Any changes will be communicated as early as possible.
___________________________________________________________________________________________________________
Plantation d'arbres grâce au programme Nikibii Dawadinna Giigwag à l'intention des jeunes Autochtones
La communauté est invitée à se joindre au programme Nikibii Dawadinna Giigwag – qui signifie « vallée inondée en guérison » en anishinaabemowin. Il s'agit d'un programme destiné aux jeunes Autochtones dans le but de leur offrir un emploi, un mentorat et un accès à l'éducation postsecondaire à la faculté d'architecture, d'aménagement paysager et de design de l'Université de Toronto. Le programme offre des occasions d'apprentissage écologique pratiques en vue de combler un fossé intergénérationnel grandissant dans le savoir environnemental traditionnel.
La plantation se déroulera selon deux plages horaires :
Séance 1 : de 10:30 h à 12 h (se présenter à 10 h 15)
Séance 2 : de 12 h à 13:30 h (se présenter à 11 h 45)
Veuillez ne choisir qu'une seule de ces plages horaires pour votre participation. Veuillez arriver à l'heure pour pouvoir assister à la démonstration de la façon de planter.
Les participants de moins de 16 ans doivent être accompagnés d'un adulte.
Les animaux domestiques ne sont pas autorisés dans le cadre de ce programme. Les animaux d'assistance sont toujours les bienvenus.
Veuillez noter que cette session sera uniquement en anglais.
En cliquant sur « S'inscrire », je reconnais avoir lu les modalités et conditions de Parc Downsview Park Inc. (« PDP »), j'accepte l'avis sur la protection des renseignements personnels de PDP et j'accepte l'utilisation de mes informations par PDP en relation avec ce Programme.
Le Parc Downsview a suivi et continuera de suivre toutes les directives de la santé publique relatives à la COVID-19. La santé et la sécurité de notre personnel et de nos participants sont notre plus grande priorité. Veuillez noter qu'au fur et à mesure que les directives évolueront, nous devrons peut-être adapter notre programmation. Nous nous assurerons cependant de toujours vous communiquer tout changement dans les plus brefs délais.