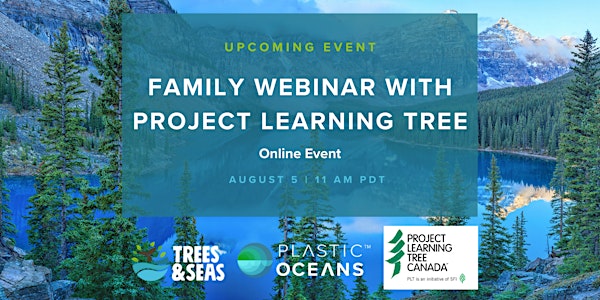 Trees & Seas: Project Learning Tree Canada Family Webinar
Celebrate Trees & Seas on August 5 with Project Learning Tree Canada (PLT Canada)!
About this event
Plastic Oceans and PLT Canada, an initiative of the Sustainable Forestry Initiative (SFI), have teamed up to celebrate the connection between forest and ocean conservation.
On August 5, join us live on Zoom for an interactive program featuring the unique ways that water helps move plant seeds.
The link will be distributed prior to the event.
Schedule:
10:55 am PT/ 1:55 pm ET/2:55 pm AT: Sign into the event Zoom waiting room11:00 am PT/2:00 pm ET/3:00 pm AT: 50-minute virtual workshop with PLT Canada
Virtual Workshop: Have seeds, will travel
Have you ever wondered how seeds travel? Or why they come in so many shapes and sizes? Join the journey of plant seeds as they eject, fly, float, and get pooped out by animals to travel away from their parent plant. We'll also explore how wind and water move more than just seeds and how we all have a responsibility to keep our forests and oceans litter free.
The "Have seeds, will travel" activity is adapted from PLT's Explore Your Environment: K-8 Activity Guide.
Preparation:
Leading up to the event, we invite you to explore forest literacy and how ecosystems, species, human impacts, and climate change interact. Knowing how these are interconnected is essential for youth to make informed decisions as stewards of our planet.
Natural Craft Materials Needed:
Drawing supplies (e.g., Pencil and Paper) or craft supplies for designing your own seed (e.g., cups, containers, pieces of cloth, masking tape)
Seed Collection (optional):
You can gather a collection of seeds (between 5-10 different seeds). This could include birdseed, or seeds saved from fruits, seeds gathered from trees or plants, etc.
Note: If an area where you would like to collect seeds is not on your property or on publicly accessible property, be sure to get permission to visit and collect seeds. Also, be careful to check for and avoid any poisonous or irritating plants.Seeds can be collected in one or more of the following ways: - Walk around the area, picking up any seeds found on the ground, and collect them in a cup or other container.- Drag an old blanket or another piece of fuzzy cloth through the area. - Wear large, old wool socks over your shoes and walk around the area.- Wear bracelets made out of masking tape (with the sticky side out) and stick small seeds or seed parts directly on your seed bracelets for collection.- Finally, take pictures of your seeds to share later during the webinar!
This event will be recorded. This will also be announced at the beginning of the program to give you an opportunity to turn off your camera.
Questions? Contact Danika.Strecko@forests.org
About The Host:
Project Learning Tree Canada (PLT Canada) believes in a society that values and benefits from sustainably managed forests and the great outdoors. We are committed to using trees and forests as windows on the world to inspire action and grow future forest and conservation leaders. Our environmental education and professional development services, which include high-value work experiences and an industry-leading mentorship program, support youth across Canada on their green career pathways, including those in rural, Indigenous, and urban communities.
Danika Strecko
Senior Manager, EducationDanika.Strecko@forests.org
Danika plays a central role in expanding SFI's educational work in Canada. She helps lead the overall development of educational materials and programs and helped launch and implement PLT Canada's Forest Literacy Framework, which translates the complex language of forests and sustainable forest management into accessible concepts for grades K–12. Danika's wealth of education experience includes everything from working in the classroom to implementing online learning programs and providing strategic leadership in the education community. Prior to joining SFI, she was the manager of online learning and ocean literacy at Ocean Wise and a board member for the Marine Life Sanctuaries Society. Danika is a B.C. Ministry of Education Certified Teacher and holds a Bachelor of Education from the University of British Columbia. She is also working towards a Master of Educational Technology from UBC.