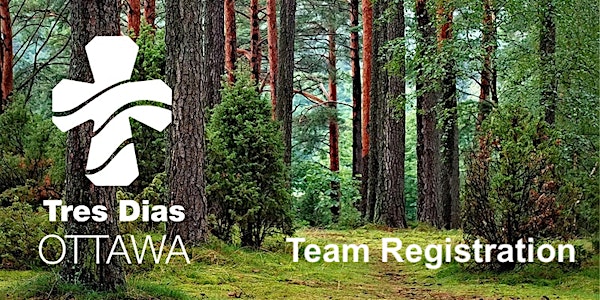 Tres Dias Ottawa 2023 Men Team Registration
Welcome to Tres Dias Ottawa! We are praying and are confident that you will have a special time with God and our Team on your weekend.
Date and time
Thu, Jun 1, 2023 6:00 PM - Sun, Jun 4, 2023 6:00 PM EDT
Location
Camp Galilee Camp Galilee Lane Haley Station, ON K0J 1Y0 Canada
About this event
Welcome to Tres Dias Ottawa 2023!
God continues to work through this community. We're thankful that you are joining the team to serve on the weekend. Tres Dias Ottawa is a ministry team of One Way Ministries, an Ottawa-based Christian organization with a mission to impact the city of Ottawa by serving its leaders.  
DATES: Men's Weekend:  Thursday June 1, 2023 - Sunday June 4, 2023
Team Member Registration 
All Team Members serving on a Tres Dias weekend are required to register. Select a ticket and provide us with your information and payment. Your information will not be shared but will be used solely for the purpose of communicating with you about the weekend and providing for your participation. Your payment covers food and lodging at Camp Galilee.
Payment methods include Credit and Debit cards. Please select the "Pay at the door" payment method if you have difficulty paying by Credit or Debit card. Please immediately follow-up with the community Financial Admin (Brent Daniel and Vicki Coughey) by email at tdo.operations@gmail.com and contact the Head Cha for your weekend. 
COVID-19 Waiver - the following attestation is required for all Team members
COVID-19 is a transmittable disease that is considered highly contagious and is known to spread mainly from person-to-person contact. By participating in this Tres Dias Weekend and its related activities, I agree that I have reviewed and agree to abide by the procedures established by the Province of Ontario ( https://covid-19.ontario.ca/public-health-measures ) and the Renfrew County Health Unit ( https://www.rcdhu.com/novel-coronavirus-covid-19-2/ ), which may change from time-to-time, to protect attendees and participants. I voluntarily assume the risk that I may be exposed to, or infected by COVID-19, or any other contagious disease, either on the Weekend or during any other related activity. I agree to assume all the risks of attendance and participation for myself and waive any liability against Tres Dias Ottawa, Galilee Bible Camp and any other involved parties.
We are so blessed to have you join this Tres Dias Weekend and are here to serve you each step of the way.  
Blessings! 
The Tres Dias Ottawa Team
About the organizer
Tres Dias is an inter-denominational weekend for men and women that concentrates on the person of Jesus Christ and His teachings.