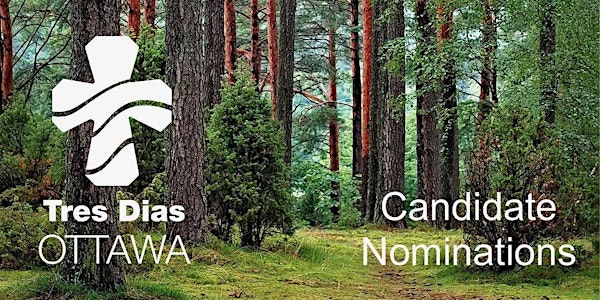 Tres Dias Ottawa 2023 Nominate Candidates
Men's Weekend: June 1-4, 2023; Women's Weekend: June 8-11, 2023 IMPORTANT: Please carefully read all information
Location
Camp Galilee Camp Galilee Lane Haley Station, ON K0J 1Y0 Canada
About this event
Men's Weekend:  June 1, 2022 - June 4, 2023
Women's Weekend: June 8, 2022 - June 11, 2023
IMPORTANT:  Please carefully read all information below (yes, there are a lot of details - Thanks!).
Specifically note, your role as a Nominator in supporting the people you Nominate. In brief, Nominators (you) Pray for Nominees/Candidates, Donate, Collect Letters from the Candidate's family and friends, and coordinate transportation to and from the Camp.
God has called you to love and support the people you Nominate and we believe this is a new milestone in your relationship with them. May His Blessings flow!
WELCOME:
God continues to work through this community. We're truly thankful for you and are glad you're here to Nominate a candidate. We believe that Jesus Christ uses these weekends to transform lives and bring His children closer to Him. We pray that your candidate would have such an encounter.
Tres Dias Ottawa is a registered charity and a ministry team of One Way Ministries. Your Donation of $225 per Candidate is tax receiptable and helps cover the costs of running a Tres Dias Weekend.
***PLEASE READ THE FOLLOWING BEFORE NOMINATING A CANDIDATE***
** Who do I contact if I have questions about Nominating Candidates, for example if the event is full or there are specific questions that are not covered below?
The Pre-Weekend team can be contacted with questions about the Nomination process. Please email the Pre-Weekend team ( TDO.register@gmail.com ).
** Who can Nominate Candidate(s)?
Typically, people who have completed a Tres Dias weekend Nominate candidates. And not just for Tres Dias Ottawa, but for any Tres Dias community anywhere in the world. Individuals attend one weekend  as a candidate in their lifetime, regardless of the location.
** Who should I Nominate?
While Tres Dias can have a powerful impact on a person's walk with the Lord, it is not for everyone. Tres Dias is an intense spiritual experience for mature believers who want to go deeper in their faith. It is generally not geared towards unbelievers, new believers, or those seeking to "fix" their faith. If you feel led to invite a friend or family member, we encourage you to seek God first in prayer.
** How do I Nominate someone?
After receiving consent from the potential candidate, simply hit the "Register" button on this page and fill out the candidate information. This will include your contact information, and a phone number and email for each person that you are Nominating. Once your form is submitted, the Tres Dias Ottawa Board will confirm Nominees for participation, and then the Pre-Weekend Team will contact the Nominee(s) with an Eventbrite link for them to complete their registration.
** What are my responsibilities as a Nominator?
There are a number of key responsibilities you must look after when Nominating a candidate. These include:
Nomination - completion of this Nomination form
Donations - As a charity, Tres Dias operates on the basis of donations to support Candidates or Nominees, and all the resources needed to support the Men's and Women's weekends.
Collecting Letters – This is one of the most important duties of the Nominators. They should work, discreetly, with family/friends of the candidate to identify key people to request letters from and follow-up with them to ensure timely collection. Candidates should never be responsible for collecting these letters.
Transportation – It is the Nominator's responsibility to ensure that their candidate has a ride to and from the weekend. Because candidates are to be served the entire weekend, they generally do not drive themselves, although in rare circumstances this may be necessary. Further, because volunteers are encouraged to be at the camp for preparations prior to candidate arrival time, Nominators are encouraged to arrange alternative transportation if they are also serving on the weekend. If you have any issues finding a ride for your candidate, please speak with your Rector or Head Cha as carpools may be available.
** Are there any guidelines for Nominating married couples?
As a general policy, the husband should attend the men's Weekend prior to the wife attending the women's Weekend. Exceptions are possible on a case-by-case basis. If you have any questions regarding this policy, please talk to your Rector.
** What's the best way to ask someone to attend?
When discussing a weekend with potential candidates, we encourage you to be transparent about Tres Dias. Let them know that they will be served, and that the weekend will last 72 hours and may require them to make arrangements with work and at home. Most importantly, be honest with them. We want to avoid having people feel that they have been misled. The only thing we ask you not to share are the "surprises" that are central to the weekends. These include the silent retreat, Palanca, the Prayer Wheel, the Serenade, the forgiveness ceremony and the letters.  Also, the Tres Dias International FAQ ( https://www.tresdias.org/tres-dias-faq/ ) is an excellent resource that you should review and we encourage you to share with potential candidates.
** How many people can I nominate each year?
There are no limits on how many candidates you can nominate each year. We just encourage people to ensure that they are seeking the Lord about who to Nominate and to ensure they can carry out their duties for each candidate. 
** Is there a minimum age for candidates?
Because Tres Dias is targeted to mature believers, candidates must be 21 years of age or older.
** How much does it cost to for a candidate to attend the Tres Dias weekend?
The cost to Tres Dias Ottawa to support a candidate for a 2023 weekend (food, lodging etc.) is $225.
** How do I donate to cover a candidate's expenses?
Please follow the Candidate Donation instructions on our Tres Dias Ottawa Website
** What should I tell people to put in the Palanca letters?
This is another common question. While there is no single answer to this question, the general purpose of the letters is to allow the candidates to feel loved not only by the serving team, but by their friends and family. For this reason, a suggestion for letter writers is to include things they love about the candidate; cherished memories; or why their relationship to the candidate is important. Alternatively, criticism, grievances and embarrassing stories are examples of things that should not be included.
About the organizer
Tres Dias is an inter-denominational weekend for men and women that concentrates on the person of Jesus Christ and His teachings.