TRI Region Entrepreneur Social5

Tuesday, 24 April 2018 from 7:00 PM to 9:30 PM (MDT)
Event Details
We're excited to bring you our 5th Entrepreneur Social to the TRI REGION-Parkland County and our BRAND NEW BRANDING SERIES. **NO MORE POTLUCK**

We're finding too many business owners are trying to focus on serving or helping everyone when in fact, if they peel back the curtains and take a look at their clients....it's actually a very specific client they market & sell to.

We will teach you how to dive in to figure out your ideal target client, things you need to be saying on video to boost engagement and generate leads and each month will build on last month's teachings/trainings to get you to the 90th day where you will stand in front of camera, deliver your pitch in 30 seconds or less with energy, enthusiasm and walk away with a polished, professional video snippet you can use on social media, your website and even your email lists.
MONTH 1 - Time to DIVE DEEP ino your IDEAL CLIENTS. HOW YOU SPEAK TO THEM TO ENGAGE AND HOW CAN YOU COME ALIVE WHEN SPEAKING
MONTH 2 - CRAFTING THAT 1 MIN ELEVATOR PITCH. LIVE ONSITE COACHING, CRAFTING AND PRACTICING

MONTH 3 - YOUR VIDEO IS BEING RECORDED. LIVE. IN PERSON. YOU GET A LITTLE SOMETHIN-SOMETHIN TO TAKE HOME WITH YOU
SPRUCE GROVE NEEDS:

1) A community of like-minded people who meet regularly to discuss what's working, what's not and future trends to grow and thrive in business
2) An elevated entrepreneurial spirit to engage others and create a netowork that is unlike any other
3) An event that everyone looks forward to every single month.
Every small business owner should be using VIDEO as a tool in their business. From promo videos, marketing videos, teaching or educational videos to using videos on social media platforms. Gone are the days of traditional marketing methods and take a look at these alarming stats when it comes to video marketing.

EACH MONTH WE WILL BUILD ON LAST MONTH TO CREATE YOUR MOST EPIC VIDEO TO DATE!

Please bring your smart phone with you to the event so that you can use it as we teach you the tricks.

****SEATING IS LIMITED, SO MAKE SURE TO RESERVE YOUR SPOT ASAP!!***
MEET YOUR HOSTS OF THE EVENING:
MELISSA MACKEY AND ADRIENNE CARLTON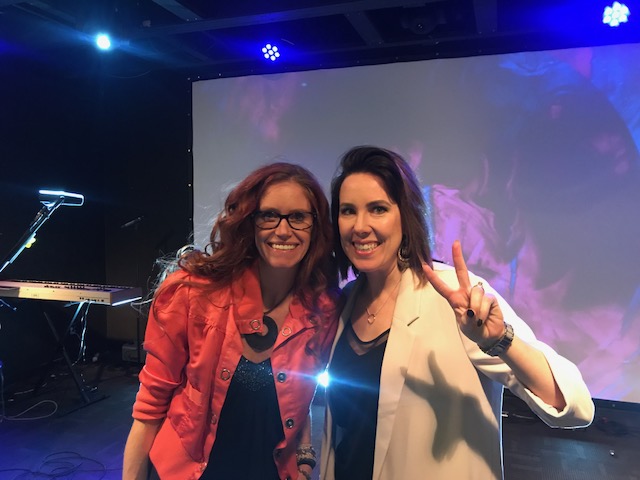 These two ladies are on a mission to raise the vibration in the community and empower, educate and inform entrepreneurs of the newest trends, tools to help grow business and most of all connect like minds with one another. They know the value in building relationships, as they have been friends and now busines partner for over 20 years. Everything begins with a relationship and the more you connect, engage and educate others the more opportunity that can be shared with everyone. Join them this evening for an eveing of fun, netoworking and a great night out!
We are focused on the entrepreneur movement which is this idea that in the coming years we're going to have more & more people who are not going to be relying on jobs, not relying on companies. Instead it is relying on each other, building meaningful relationships and strong partnerships. This event is always for members and invite only by the host Ignite Me Now and the community on MeetUp.
Please note that this event is always filmed. By attending this event, you consent to being filmed and photographed and it's release, publication, exhibition, or reproduction to be used for news, web casts, promo purposes, telecasts, advertising, inclusion on websites, social media or any other purpose by Melissa Mackey and Adrienne Carlton and its affiliates and representatives. Images, photos, and/or videos may be used to promote similar events in the future. You release Melissa Mackey and Adrienne Carlton, its officers and employees, and each and all persons involved from any liability connected with the taking, recording, digitizing or publication and use of material. You also agree to having updates/emails/reminders for future events.
When & Where

Engage City Church
282 King Street
Spruce Grove, AB T7X 3A9
Canada

Tuesday, 24 April 2018 from 7:00 PM to 9:30 PM (MDT)
Add to my calendar
Organizer
Melissa Macky is committed to helping people make a difference in their life AND the life of others. She empowers and inspires people to tap into their full potential and greatness and share it with the world. Her lifelong committment to learning & educating enables her to really dive deep with people.