TriCom | Edged Weapon Countermeasures & Duty Knife as a Backup Weapon
About this event
Statistically more lethal than firearms assaults at extreme close-quarters, edged weapons are a constant threat that law enforcement officers must be aware of and prepared to defend against on a daily basis. The goal of this course is not to avoid "martial arts" techniques, but to analyze what martial artists have learned from centuries of trial and error, and hand pick the techniques, tactics and procedures that have the highest probability of success for the average law enforcement officer who is often neither a martial artist, nor has the opportunity to train on a regular basis. Day 1 focuses on Edged Weapon Countermeasures and lays the foundation for Day 2 which dives into Duty Knife as a Backup Weapon (Support Tool). The workshop is specifically developed for law enforcement in alignment with the National Use of Force framework.
This course includes at a minimum:
Identifying edged weapon threats as early as possible.
Exploiting optimal angles of approach and engagement.
Learning strikes and joint manipulations that have the highest probability of success in the "Adrenal State".
Focus on Gross Motor movement and actions that prepare the officer for success when experiencing physiological stress symptoms.
Integrating available use-of-force options.
Dynamic simulation and micro-scenario drills.
Registration: The workshop is restricted to sworn law enforcement officers, military, security professionals and vetted civilians. Participants may register via Eventbrite or e-Transfer. Please note, Eventbrite charges a handling fee. Payments sent via e-Transfer does not have a handling fee.
e-Transfer email: info@pekititactics.ca
Parking: Free
Please bring the following to the course:
Comfortable t-shirt
Comfortable long pants (5.11, BDU or similar cargos)
Duty belt with Blue training gun; no live intervention options
Clean wrestling/boxing/mats shoes (optional); no boots / outdoor shoes
Training knife (if you own one)
Eye protection (optional)
Snacks, hydration drinks
Instructor Bio: Chris Mandigma specializes in close-quarter combatives that spans over fifteen years of experience in law enforcement and the security sector combined. Chris is recognized as one of the leading law enforcement instructors in Canada in close-quarter combatives, edged and impact weapons.
After joining the Pekiti Tirsia Tactical Association in early 2018, Chris founded the first PTTA-sanctioned affiliate in Canada - Pekiti Tirsia Tactics, which specializes in the training of law enforcement, military, and security professionals in extreme close-quarter combatives of empty-hand, impact and edged weapons through the TriCom (Tri-Angle Combatives) system. Chris is the Director for Canada, a member on the Board of Tactical Advisors for the PTTA and Canada's only TRICOM Master Instructor; he is also an Advisory Board member with the Canadian Tactical Officers Association (CTOA). Since the inception of Pekiti Tirsia Tactics and PTTA Canada, Chris travels instructing to various enforcement agencies instructing tailored combatives training. He has worked with groups ranging from the RCMP, Ports Toronto, CBSA, US Secret Service, and the Wyoming Law Enforcement Academy as the short list.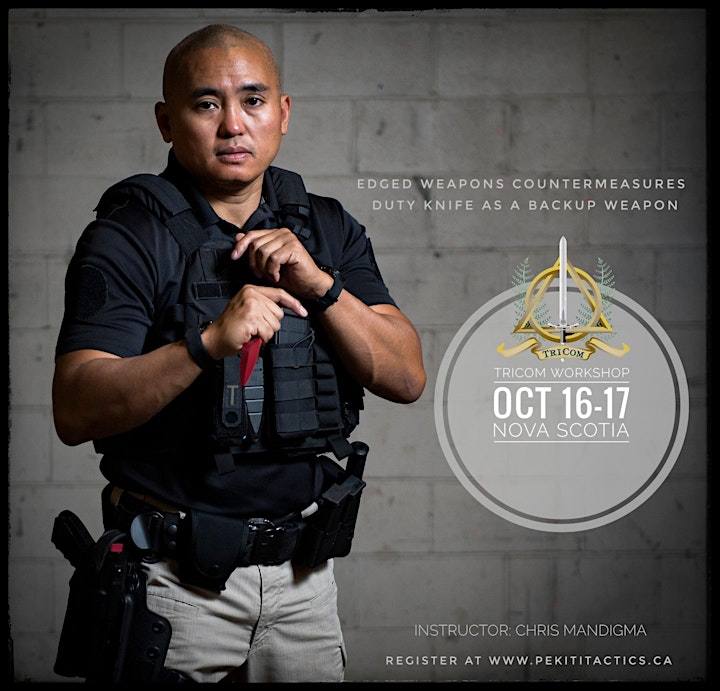 Organizer of TRICOM: Edged Weapon Workshop
Pekiti Tirsia Tactics is a sanctioned affiliate with the Pekiti Tirsia Tactical Association (PTTA) which works alongside Survival Edge Tactical Systems to deliver the TRICOM system. Pekiti Tirsia Tactics specializes in training law enforcement, military and specialized enforcement units in close-quarter combatives from empty-hand up to lethal force options.
All courses and workshops instructed are aligned with the National Use of Force Framework and court-defensible.