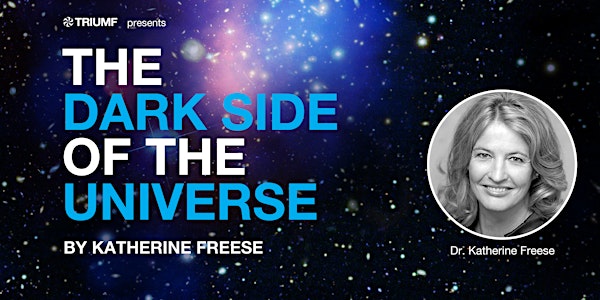 TRIUMF Presents Dark Side of the Universe with Katherine Freese
When and where
Location
TELUS World of Science 1455 Quebec Street Vancouver, BC V6A 3Z7 Canada
Description
Doors open at 6:45 PM
Lecture begins at 7:30 PM
Q&A to follow
The Dark Side Of The Universe
The atoms that make up the known universe constitute only 5% of all matter and energy in the cosmos. What remains is a recipe of 25% dark matter and 70% dark energy: nonluminous components whose nature remains a mystery.

Join Dr. Katherine Freese, author of The Cosmic Cocktail: Three Parts Dark Matter and Professor of Physics at the University of Texas, Austin - as she recounts the hunt for dark matter, from the discoveries of scientists such as Fritz Zwicky and Vera Rubin, who identified the first pieces of evidence for dark matter, to the deluge of data today from satellites, underground laboratories, and the Large Hadron Collider.
On Monday, July 22, join Dr. Katherine Freese, for her talk, The Dark Side Of The Universe.
This lecture presented by TRIUMF and the 2019 Tri-Institute Summer School on Elementary Particles.
---
FAQs
Do I need to bring a paper ticket?
No, once you've registered through Eventbrite your name is on the list, so you will just need a piece of ID with your name. To speed things up, bring your e-ticket on your phone or a printed copy of your ticket.
What if I registered but can no longer go?
We're sorry you cannot make it! Please cancel your free registration before the event. We always sell out quickly so this gives others a chance to reserve your tickets and allows us to better anticipate the amount of guests expected.

Will I get a seat if I just show up without registering?
We cannot promise a seat for walk-ins. However, at previous events we were able to seat walk-ins. If you are in the area, feel free to stop by!

Why is it first come, first serve? Why can't we reserve seating?
Science World does not have numbered seating therefore the first to show up will be seated in the theatre.