Enjoy trivia with other Scarborough North Liberals
About this event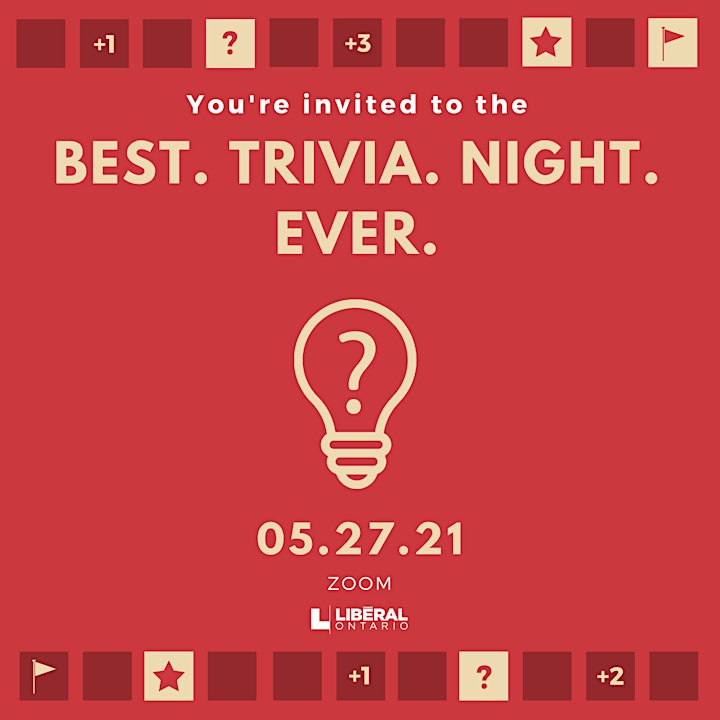 Join your fellow Scarborough North Liberals for a Virtual Trivia Night!
What's a Virtual Trivia Night?
It's just like an in-person Trivia Night, but we play over Zoom. This Virtual Trivia Night is on tentatively May 25th at 6pm EST.
How to Join the Event
Be sure to install Zoom on your computer, phone, or tablet before the event. By RSVPing, you will receive the Zoom link from Eventbrite in your inbox.
Teams will be assigned
When the event starts, the host will randomly assign everyone to teams of up to 4 people. We will make use of Zoom's breakout rooms to facilitate problem solving amongst teammates.
Winner takes all!
The winning team will undergo a final trivia round amongst themselves to determine the final winner. That person will have receive a $50 dollar gift card to a major local retailer.
Timeline (Tentative)
Ice Breaking: 7:00pm to 7:15pm
Welcome message: 7:15pm
Games begin: no later than 7:20pm
Intermission: 7:45pm-7:50pm
Awards: 8:15pm
End of Event: 8:20pm
See you there!