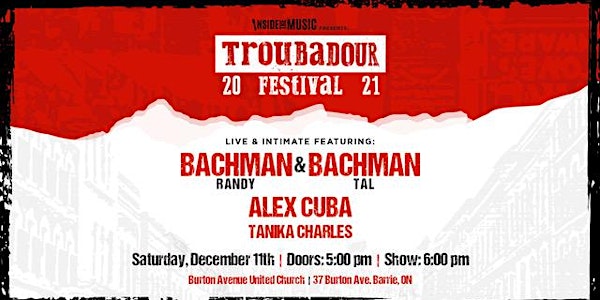 Location
Burton United Church
37 Burton Avenue
Barrie, ON L4N 3J3
Canada
Troubadour Festival 2021 w/ Bachman & Bachman
About this event
Troubadour Festival 2021 – Live & Intimate
Bachman & Bachman
Alex Cuba
Tanika Charles
Dec. 11, 2021
Burton Avenue United Church
37 Burton Ave.
Barrie, ON
Troubadour Festival, presented annually in September in Barrie, ON, had to take a pause in 2020 due to the pandemic. But in 2021 Inside The Music is excited to announce a modified, one-night version of the festival on Sat. Dec. 11 at Burton Avenue United Church featuring some incredible music artists in a live and intimate setting: the father & son duo, Randy Bachman & Tal Bachman, Cuban-Canadian singer/songwriter Alex Cuba, and R & B soul singer Tanika Charles.
Troubadour Festival has always shone the spotlight on songwriters from various music genres. In normal times the festival is a carefully curated mix of more than thirty music artists and bands from various genres (singer/songwriter, soul, blues, roots, indie rock, folk, rock 'n roll, country rock) performing on multiple stages in various venues throughout downtown Barrie. In 2021 organizers are excited to present three incredible music artists in live & intimate setting. The concert will be filmed and then streamed on-line in January.
There will be no food available. Bottled water will be served.
Seating is limited.
Showtime 6:00pm
Doors at 5:00pm
COVID Health & Safety measures will be in place.
Every audience member aged 12 and older must present a QR Code proof of full COVID-19 vaccination, along with government issued ID, at the door. Vaccination must be the full series of a World Health Organization approved COVID-19 vaccine or combination of approved vaccines, received at least 14 days prior to the day of the event.
We are unable to accept proof of a negative COVID-19 test for admittance (except for guests with a verified medical exemption). Children who are 11 years of age and younger will be exempted from proof of vaccine and testing requirements.
Please have your proof of vaccination easily accessible for quick and easy entry to the theatre.
A Note on Live Music
It is important to note that live music festivals like Troubadour are critical to expanding the music industry in Barrie and Central Ontario as identified in the Regional Music Strategy for our area. A vibrant music economy will drive value for our city in many ways including economic growth, job creation, tourism development, city brand building, cultural development, attracting and retaining talent outside of the music industry, and strengthening the social fabric. Troubadour Festival is a cool, folksy, relaxed music festival that draws people of all ages from across Ontario to enjoy world-class singer/songwriters and great original, live music right here in Barrie.