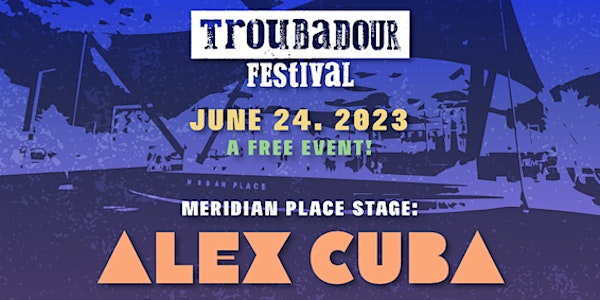 Troubadour Festival 2023
Troubadour Festival 2023 takes place on Sat June 24. It is a free event for the public and takes place in the heart of downtown Barrie.
Date and time
Sat, Jun 24, 2023 9:00 AM - 11:00 PM EDT.
Location
Meridian Place Amphitheatre 30 Simcoe St Barrie, ON L4M 1A7 Canada
Performers
Headliners
More Performers
Logan Staats
delyn grey
sammy and band
Dany Michel
harpacash
jd crosstown
Josh Bogert
james gray
Zachary Lucky
Lindy Vopnfjörð
rebekah hawker
b knox
About this event
14 hours

ALL AGES

Mobile eTicket
Troubadour Festival takes place on Sat June 24. It is a free event for the public and takes place in the heart of downtown Barrie. The main thoroughfare (Dunlop St) will be closed to traffic for the entire day.
Meridian Place Amphitheatre
Recent Grammy winner (Best Latin Pop Album) Alex Cuba headlines the Meridian Place stage in downtown Barrie. He'll take the stage at 8:00pm. Main stage performances begin at 5:00pm.
8:00pm – Alex Cuba
7:00pm – Logan Staats
6:00pm – Delyn Gray
5:00pm – Sammy and Band
Lemmon Stage at Homestead Cafe
Live Music gets underway at 9:00am with a performance by HarpAcash on the Lemmon X Troubadour Showcase stage at Homestead Bakery & Café – 80 Dunlop St E, Barrie
Acoustic performances by a music artist every hour until 4:00pm.
At 4:00pm is the Songwriter's Workshop, presented by the City of Barrie, featuring veteran singer/songwriters Danny Michel & Lindy Vopnfjard and hosted by Chas Hay (The Songwriter Series). Also performing at Homestead Café will be Julianna Jones, Michael Costantini, JD Crosstown, James Gray, Zachary Lucky and Josh Bogert.
Beer Garden
Various local artists, including Rebekah Hawker and B Knox, will be performing throughout the day in the Muskoka Brewery Beer Garden located at the top of Meridian Place.
"We are so excited to once again be presenting Troubadour Festival," says organizer Ryan Andersen. "This year, for the first time, all our events will be free to the public. We have so many amazing artists performing including the incredible Alex Cuba on our mainstage on Saturday night. Make sure to mark June 24th on your calendar and come to downtown Barrie for a fantastic day of live music."
The 5th Annual Troubadour Festival will be presented in downtown Barrie, ON. This multi-genre music festival is a carefully curated mix of music artists and bands from various genres (singer/songwriter, latin, soul, blues, roots, indie rock, rock 'n roll) performing on multiple stages in various venues. The festival has always featured local and regional, as well as nationally recognized, music artists. Past performers include Joel Plaskett, Hollerado, Cowboy Junkies, Matt Anderson, Dwayne Gretzky, Natalie MacMaster, and Whitehorse.
For more info and schedules please visit troubadourfestival.ca.
About the organizer
What Is Inside the Music?
We bring world-class music artists to perform live, in concert, in venues across Ontario
Inside The Music was founded in 2012 with the express purpose of presenting great music artists.  We have presented many terrific music artists over the years representing many genres; including roots, blues, country, folk, jazz, bluegrass, pop, indie, soul, rhythm & blues, funk, alt-country, and rock 'n' roll.  Artists we have worked with include Bahamas, Randy Bachman, Natalie MacMaster, The Strumbellas, Ron Sexsmith, Colin James, Whitehorse, Corb Lund, Big Sugar, Alan Doyle, Blackie & The Rodeo Kings, Cowboy Junkies, Jesse Cook, Classic Albums Live, Matthew Good, Bruce Cockburn, Lowest Of The Low, The Skydiggers, and many more.
Bars focus on selling beer, arenas focus on selling tickets, Inside The Music focuses on the music.
There is nothing else you can do to replicate the feeling you get when you go to a live music show.  A great set by a talented artist can be motivational, transformational, uplifting, even spiritual.  There is a connection that happens between the artist and the audience member that is very special.  Live music is a universal language that crosses all barriers and often creates memories that last a lifetime.  Inside The Music presents great live music.