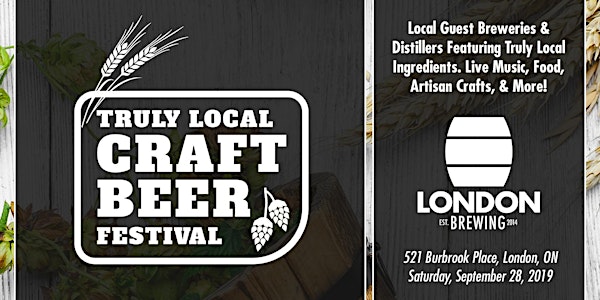 Truly Local Craft Beer Fest
When and where
Location
London Brewing Co-operative 521 Burbrook Place London, ON N5W 4B5 Canada
Description
Join us for this our 2nd annual Truly Local Craft Beer Festival! Featuring breweries and beers, from around Southern Ontario.
London Brewing will be hosting a craft beer festival that focuses on using locally-grown ingredients in beers - infusing the tastes of the region.
Locally-made beers with locally sourced ingredients, make a big economic impact in our region. Come taste the difference and learn more about the importance of local ingredients.
General Tickets: $10 - includes admission and 3 x 4oz drinks ***
*** First 500 people get a commemorative glass to use for the fest and to take home!
Vendor List:
Anderson Craft Ales
Bad Apple Brewing
Caps Off Brewing
Charlotteville Brewing
Concession Road Brewing
Dundas & Son Brewing
Equals Brewing
Forked River Brewing Co.
Hometown Brew Co.
Homebrewers Guild
Job Site Brewing Co.
London Brewing
Natterjack Brewing Co.
River Road Brewing
Rusty Wrench Brewing
Shakespeare Brewing
Sod Buster Brewing
Sons of Kent
Stonepicker Brewing
Storm Stayed
Stonepicker Brewing
Toboggan
Together We're Bitter
Upper Thames Brewing Co.
Cider from:
Twin Pines Cider & Bad Apple brewing
Cocktails from:
Top Shelf Distilers & Stereo Caliente