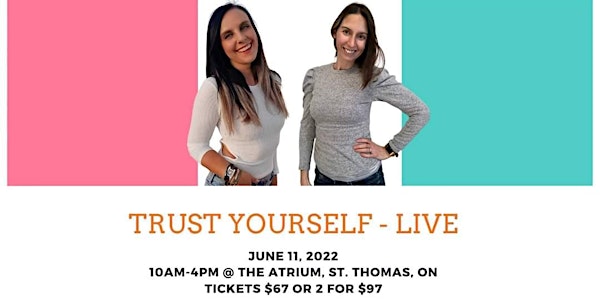 Trust Yourself - LIVE *For Women Business Owners*
Location
The Atrium
Princess Ave.
London, ON N5R 3V4
Canada
For the woman business owner who's ready to unlock the power of trusting herself and boldly unlock the sales & success she desires!
About this event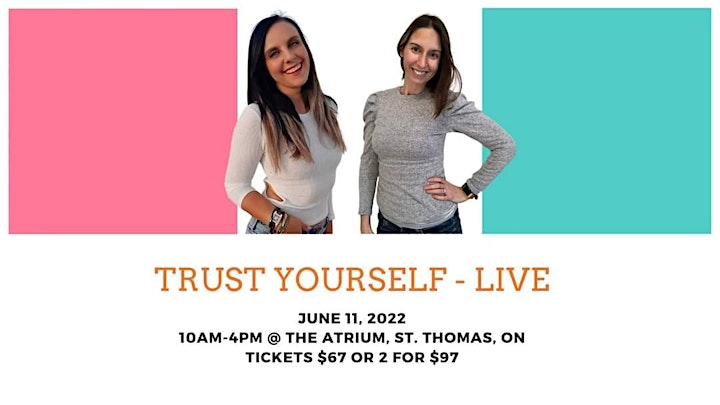 Do you ever wonder how people seem to be able to make decisions without overthinking or agonising over them for hours?
Maybe you wonder what magic people are using when they share how they can think of a new offer, create it and sell it all within a couple of days (meanwhile you're still in the thinking stage a few weeks after your initial thought)
Or maybe you see people talk about sales feeling SO easy and flowing, meanwhile you're sat there overthinking every sentence of a sales post or message you've plucked up the courage to potentially send
Any or all of that sound familiar?
Want to know one of the biggest differences between you and them?
It's simple really, they TRUST THEMSELVES
Jane Baker & Katie Kahvo recently delivered Sales, Success & Ease an 8 week group programme and whilst we covered a ton of topics one of the biggest was the power of trusting yourself.
In fact pretty much everyone who took part said the biggest shift they experience and the transformation that has made the most difference to their business in the 8 weeks we spent together was the shift they made in trusting themselves.
See trusting yourself is actually one of the most crucial elements of sales feeling easy or being able to make sales in general.
Likewise trusting yourself is also pretty crucial when it comes to getting things done VS procrastinating on them.
Trusting yourself also has a huge knock on effect to how others see you, converse with you and behave towards you.
Trusting YOU is fundamentally the biggest secret to most peoples success, which is why we're inviting you to….
Trust Yourself - LIVE
A one day experience with hosted by Jane & Katie, in person where we're going to immerse you in trusting yourself.
You'll leave the day
- Knowing why trusting yourself is so important and why you don't currently trust yourself
- Being able to fully step into the version of yourself who trusts themselves 110%
- Having completely changed how you feel about selling PLUS know exactly how you can leverage trust in yourself to make sales easier and more effortless than ever before
- Knowing how to differentiate between fear and intuition AND how to use that to make powerful quick decisions in your business that will catapult your growth
- Being able to collapse the timeline between creativity and cash
- Having total confidence in yourself, your decisions, your goals and more
- Knowing how to leverage trusting yourself to help you reach ALL of the goals you set and step into your dream life
- Plus much more
Like no joke the list could keep going on, because that's how powerful trusting yourself is!
June 11th
London, ON, Canada
10am till 4pm
All refreshments provided including lunch and a goody bag on arrival
Ticket price $67 OR bring a friend and get 2 tickets for $97
Limited to 30 people ONLY