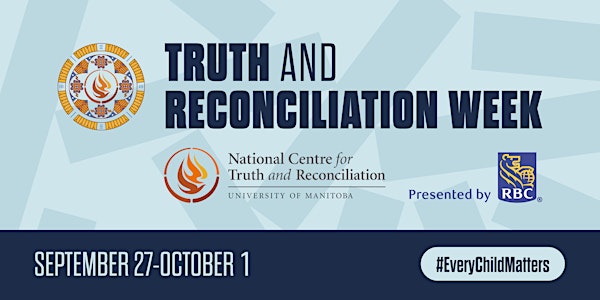 Truth and Reconciliation Week
This year, Every Child Matters is growing from a single day to a full week of Truth and Reconciliation programming.
About this event
Missed registration? No problem! Visit nctr.ca to watch the content as the recordings become available to the public.
Inscription manquée ? Aucun problème! Visitez nctr.ca pour regarder le contenu au fur et à mesure que les enregistrements deviennent accessibles au public.
This year, we're proud to announce that Every Child Matters is growing from a single day to a full week of Truth and Reconciliation programming. Last year's unprecedented online event was attended by over 500,000 students, teachers, and general public attendees. Together, we can build on the success of Every Child Matters and continue the conversation on First Nations treaties, Métis and Inuit Land Claims, and the residential school system.
When?
Due to the ongoing COVID-19 pandemic, Truth and Reconciliation Week will take place virtually the week
of September 27 through October 1, 2021.
What can I expect?
The programming will feature short videos created by Indigenous storytellers, followed by conversations with Elders, Knowledge Keepers, Survivors, and the children of Survivors of residential schools. The videos will be supported with classroom activities for students. Throughout the week we'll share artistic and cultural performances by First Nations, Métis, and Inuit artists. There will also be a moving tribute to the Missing Children that never returned home from the residential schools.
To learn more about our program please visit - https://nctr.ca
Some of our program contributors include APTN, the National Film Board, Canada's History, CBC Manitoba, Wapikoni Mobile, and the Treaty Relations Commission of Manitoba.
We hope you and your students will join us.
___________________________________________________________________
Cette année, nous sommes fiers d'annoncer que l'événement Chaque enfant compte passe d'une journée à une semaine complète de programmation sur la vérité et réconciliation. L'activité virtuelle sans précédent de l'année dernière a attiré plus de 500 000 élèves, enseignants et membres du grand public. Ensemble, nous pouvons miser sur le succès de Chaque enfant compte et poursuivre la conversation sur les Traités des Premières Nations, les revendications territoriales des Métis et Inuits, et le système des pensionnats indiens.
Quand?
En raison de la pandémie de COVID-19, la Semaine de la vérité et réconciliation aura lieu en mode virtuel du 27 septembre au 1 octobre 2021.
À quoi puis-je m'attendre?
La programmation comportera de courtes vidéos créées par des conteurs autochtones, suivies par des conversations avec des aînés, des gardiens du savoir, des survivants et des enfants des survivants des pensionnats indiens. Les vidéos seront accompagnées d'activités à faire en classe avec les élèves. Nous présenterons des performances artistiques et culturelles des artistes des Premières Nations, Métis et Inuits tout au long de la semaine. De plus, un hommage émouvant sera rendu aux enfants disparus des pensionnats indiens qui ne sont jamais retournés chez eux.
Pour en savoir plus sur notre programme, veuillez visiter - https://nctr.ca
Parmi les collaborateurs de notre programme notons, APTN, l'Office national du film du Canada, Histoire Canada, la SRC du Manitoba, Wapikoni Mobile, et la Treaty Relations Commission of Manitoba.
Nous espérons que vous vous joindrez à nous avec vos élèves.