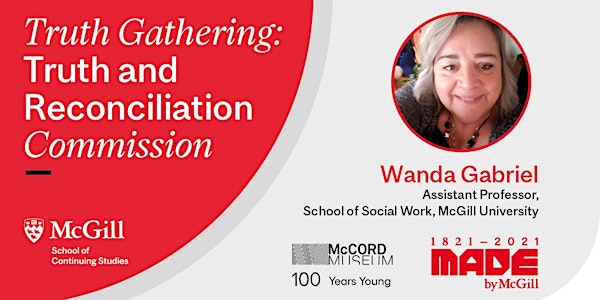 Truth Gathering: Truth & Reconciliation Commission
Truth Gathering: Truth & Reconciliation Commission
When and where
Location
McCord Museum 690 Rue Sherbrooke Ouest Montréal, QC H3A 1E9 Canada
About this event
The Truth and Reconciliation Commission is one of the elements of the residential school survivors' settlement agreement. In this meaningful encounter, we will take a closer look at the process of this historical commission over their years of operation and how they carefully approached survivors to gather their stories. Particular focus will be on the calls to action and what this means for Canadians. Connecting with McCord's exhibition Indigenous Voices of Today: Knowledge, Trauma, Resilience, Professor Wanda Gabriel will explore how sharing the stories of trauma and resiliency breaks the code of silence.
About Professor Wanda Gabriel
Prof. Wanda Gabriel, is Assistant Professor at McGill University, School of Social Work. She has worked nationally on several projects such as the Aboriginal Healing Foundation, The Canadian Aboriginal Aids Network, National Parole Board of Canada, and the Truth and Reconciliation Commission. In her University role, she is the Co-Director for the Qualifying Year for Master of Social Work degree and the Co-Director of Indigenous Access McGill. She is presently involved with a research team composed of partners from Concordia University, Quebec Native Women and Elizabeth Fry Association. The project is to identify the rehabilitation needs of Indigenous women in Quebec's provincial prison and to assess the institutional policies that support and constrain Indigenous women's capacity for rehabilitation.
About the McGill-McCord Dialogues
On the occasion of McGill's Bicentennial, the McGill School of Continuing Studies and the McCord Museum have partnered to present a series of events with the aim of breaking down barriers to cultural and educational institutions and reimagining art, culture, and education in our community.
The McGill-McCord Dialogues offer opportunities to explore a variety of current and future-focused topics taught at SCS and connected to exhibitions at the McCord Museum.
Space is limited to 30 attendees. Please register to reserve your spot.
To view all events in the series, visit mcgill.ca/continuingstudies/mcgill-mccord-dialogues
Vaccine Passport
As per provincial regulations in place, a vaccine passport is required to attend.
Livestream
This event will also be livestreamed on the McGill School of Continuing Studies YouTube Channel. Tune in at https://youtu.be/aII--5pGLlU
About the McGill University School of Continuing Studies
Situated in the heart of Montreal on the main campus of one of Canada's leading universities, the McGill School of Continuing Studies offers innovative programs that aim to help adult learners gain the skills they need to launch their careers, advance their current careers or switch into a whole new field.
With over 50 programs in more than 25 subjects such as marketing, management, human resources, accounting, finance, data science and AI, the School is dedicated to creating skilled, future-ready leaders who can thrive in a rapidly changing world.
Learn more at mcgill.ca/scs
About the McCord Museum
The McCord Museum celebrates life in Montreal, its people and communities, past and present. Reaching beyond the city to the wider world, the Museum creates and presents engaging exhibitions and educational and cultural activities with a critical and inclusive take on social history. It is renowned for its collections of Archives, Documentary Art, Dress, Fashion and Textiles, Indigenous Cultures, Material Culture, and Photography, comprising 200,000 objects and artworks, 2,150,000 photographs, 3,500 rare books and 340 linear metres of textual archives. Founded on October 13, 1921, the Museum is celebrating its one hundredth anniversary with special programming until Autumn 2022. McCord Museum: Our People, Our Stories.
Learn more at musee-mccord.qc.ca