Novelist and Playwright, Kevin Craig, Shares Tips on Jump Starting Your Writing!
About this event
Try Everything! Quirks and Tips to Help You Jump-Start Your Writing...
On Wednesday, November 13, Muskoka Authors Association welcomes, Kevin Craig, author of six published novels (Summer on Fire, Sebastian's Poet, The Reasons, Burn Baby Burn Baby, Half Dead & Fully Broken, and, Pride Must Be A Place). Kevin will give a short overview of his own writing journey, including how he bounced from one form of writing to another while attempting to stay focused on his long-term goal of writing young adult novels. He will also share how he discovered there is more than one way to write a novel, and that you should explore the different ways with each consecutive novel you write. He will discuss how invigorating it can be to explore alternate writing forms along the way to your own writing goals, whether they are to write the Great Canadian Novel, a screenplay, a memoir, or a poem. As well, he will discuss how important it is to allow yourself to escape your comfort zones while getting to those goals.
Whether you're new to writing or a seasoned pro, you should never be afraid to try something new. New forms of writing can often trick our creativity and jump-start a stalled project back to life. They may even accidentally help you to discover new creative callings. What if the novel you're writing is actually a play? Maybe the short story you've been struggling with is reallly a collection of poems.
Kevin will introduce some of their favourite exercises and prompts that helped in his own creative journey. Like Kevin, you may find that the journey is just as exhilarating and rewarding as the destination. Attendees should come prepared to write and share their work.
Kevin Craig is also a five-time winner of the Muskoka Novel Marathon's Best Novel Award. Kevin's seventh novel, THE CAMINO CLUB, is forthcoming from Duet Books, the YA imprint of Interlude Press (October 2020). In addition, he is a playwright with a resume of ten short plays and two one-act plays staged in various places from Toronto to Mumbai, Australia, and the United States. His poetry and short stories have appeared in numerous anthologies and journals throughout the world. For several years Kevin worked as a freelance writer, writing everything from articles on interior design and travel to interviews with musicians such as Bif Naked. Several of his songs have been recorded by various artists. Kevin was a founding member on the board of directors for the Ontario Writers Conference and is currently a member of the Writers Community of Durham Region. Kevin lives in Toronto, Ontario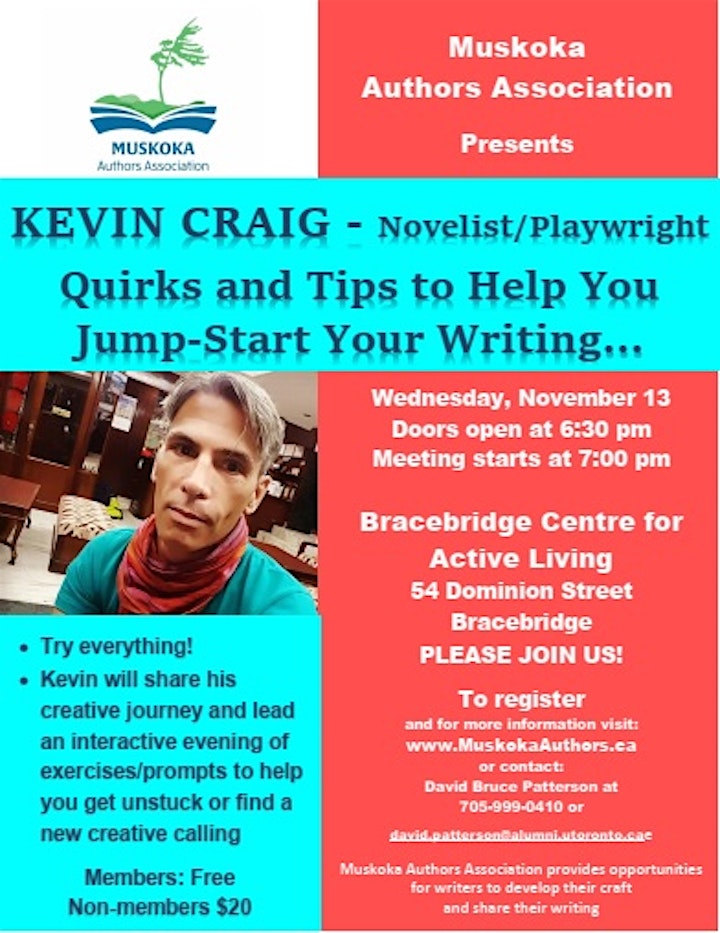 Organizer of Try Everything - Quirks & Tips to Jump Start Your Writing
MAA welcomes professional and aspiring writers (and everyone in between). Muskoka has a rich heritage in the arts and exceptional writers are a part of that. We pride ourselves on our mandate of authors helping authors. To that end, we bring in a great lineup up of acclaimed authors each month to give presentations and/or workshops on both the business and craft of writing.