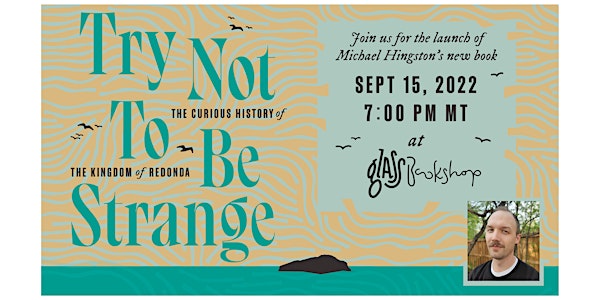 TRY NOT TO BE STRANGE Launch with Michael Hingston
Join us in-shop on September 15 at 7 p.m. (MT) to celebrate the launch of Michael Hingston's new book TRY NOT TO BE STRANGE.
When and where
Location
Glass Bookshop 10242 106 Street Edmonton, AB T5J 1H7 Canada
About this event
Join us in-shop on September 15 at 7 p.m. (MT) to celebrate the launch of Michael Hingston's new book TRY NOT TO BE STRANGE.
.
.
COVID SAFETY MEASURES
All attendees will be required to wear a mask upon entering the gallery.
PARKING & ACCESSIBILITY
Latitude 53 is located at 10242 106 St. in Edmonton. There are two parking stalls directly in front of the gallery entrance and additional street parking in front of the gallery along 106 St. Street parking becomes free after 6 p.m., unless there is an event taking place at Rogers Place the same evening. There are also multiple paid parking lots within one block of the gallery.
Latitude 53 is easily accessible by way of several ETS routes, including the 7, 110X, and 500X, and is located roughly three blocks south of the Corona LRT station.
The front door of the gallery is 35 inches wide. This is wide enough to accommodate most mobility devices, such as a walker or standard-sized wheelchair, but may be a tight squeeze for others.
All washrooms are gender-neutral, with multiple stalls sharing a sink space, as well as a separate, physically accessible single-stall washroom.
A detailed accessibility breakdown can be found here on the Latitude 53 website.
.
.
ABOUT THE BOOK:
On his fifteenth birthday, in the summer of 1880, future science-fiction writer M.P. Shiel sailed with his father and the local bishop from their home in the Caribbean out to the nearby island of Redonda—where, with pomp and circumstance, he was declared the island's king. A few years later, when Shiel set sail for a new life in London, his father gave him some advice: Try not to be strange. It was almost as if the elder Shiel knew what was coming.
Try Not to Be Strange: The Curious History of the Kingdom of Redonda tells, for the first time, the complete history of Redonda's transformation from an uninhabited, guano-encrusted island into a fantastical and international kingdom of writers. With a cast of characters including forgotten sci-fi novelists, alcoholic poets, vegetarian publishers, Nobel Prize frontrunners, and the bartenders who kept them all lubricated while angling for the throne themselves, Michael Hingston details the friendships, feuds, and fantasies that fueled the creation of one of the oddest and most enduring micronations ever dreamt into being. Part literary history, part travelogue, part quest narrative, this cautionary tale about what happens when bibliomania escapes the shelves and stacks is as charming as it is peculiar—and blurs the line between reality and fantasy so thoroughly that it may never be entirely restored.
ABOUT THE AUTHOR:
Michael Hingston is the author of Let's Go Exploring and The Dilettantes. His journalism has also appeared in National Geographic, Wired, and the Washington Post. Hingston lives in Edmonton, Alberta, with his partner and two kids.